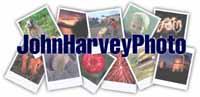 Tsukiji Fish Market

What time do you want to wake up?


---
It's our last day in Tokyo (and Japan) and I am going to see the Fish Market even if it kills me! I set the alarm for 5am and sure enough got up. I was dressed and ready to go at 5:30, as were Andrea and David - Mark was smart enough to keep sleeping. We went down to the subway and were walking around the market by 6am. And it was busy!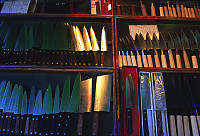 We didn't really have a clue where we were going (other than "the Market") so the first bit of market we stumbled into we explored. The Market services Tokyo's massive restaurant industry with sea food so it's both a volume and diverse affair - much larger than the Granville Island market where I shop. Most stalls were specialized (knife shop, fresh fish, fresh tuna, shell fish and so), but any specialty would have several representatives. The diversity of products available was amazing - most fish I didn't recognize, all of the shell fish was new to me. It was a massive sensory overload.

After wandering around the outdoor market (which turned out to be the tip of the iceberg) the traffic directed us to the market proper - a sprawling hanger like building with a swam of small vehicles pulling loads of fish around it.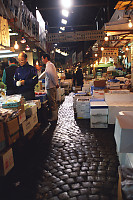 This area seemed dedicated to reselling. Products that had been auctioned earlier in the day were broken into restaurant sized lots and sold to buyers who were walking around without carying product. The floors (cobble stone) were wet but clean and fish was everywhere.


The market is most famous for it's Tuna sales. Massive tuna are auctioned earlier in the morning (5 am apparently) and sold to these smaller retailers (some fish cost more than ten thousand dollars). They cut the fish into the different cuts and sell those meats to restaurants, who then cut the meat to sashimi or nigiri sized chunkes. The fish are so heavy, a whole team of men lift them to the cutting block where they are butured.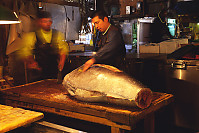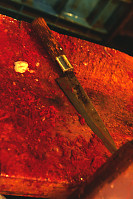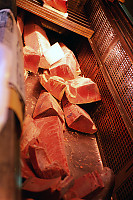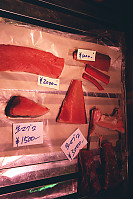 It turns out I'm a market nut. I love markets. The life and vigor (and death) going on in the market was amazing to see. I was a little worried I'd get yelled at for entering the markets (I'm not going to buy anything), but everyone was friendly, and even curious about what I was taking pictures of and what camera I brought in. For me, this was one of the highlights of the trip.
---
Tags: market(15), Japan(15), fish(13), Tokyo(12), seafood(9), knife(2)
From: John Harvey Photo > Trips out of the Country > A Second Trip to Japan > Tsukiji Fish Market
From: John Harvey Photo > Trips out of the Country > A Fourth Trip to Japan > Tokyo > Tsukiji Fish Market
From: John Harvey Photo > A Fourth Trip to Japan > Tokyo > Tsukiji Fish Market


Wonderful shots and range of stuff and just the right level of comments! Just came across this site while trying to sketch out a plan for going back to Japan -It's been a long time since I was in Japan and going through to decide where needs a visit is tough - just a few pictures here though and I am convinced I almost missed half opf the place before!

James G
Monday, May 18th, 2009 at 08:16:48


Last Modified Tuesday, June 9th, 2009 at 00:43:31 Edit
Copyright and Contact Information.