Christmas 2014

Lots and lots of kids

---
Christmas Eve: Victoria
That last week before Christmas is precious. Where I work there is a never ending stream of out of office e-mails and in the last week the office becomes almost empty. No meetings, no customers - finally a chance to get work done! Taking a day off when work is so blissful seems like a crime but you can't really show up at Grandma's house at 11pm on Christmas eve. We broke down and took the best day of the year (did I mention the rum and egg nog cart?) off to meet up with Family. Claira tried her best to stay awake but eventually fell asleep so the rest of us went out for a walk.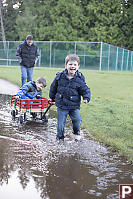 Ah, McMinn Park - so many years of visits. This playground has both a toddler and and kids section - toddler and kids swings and lots of open space to run around. I'm going to be kind of sad when my kids are too old to have fun at the playground.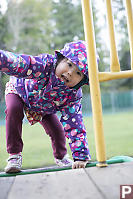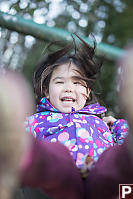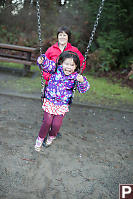 My Dad was born on Christmas day. We have some traditions around that. Because the Christmas holiday already has so many big meals and we don't want to make my mother cook a huge meal on Christmas day we have "top your own pizza" for Christmas day. My dad usually celebrates in the evening - nothing worse than opening your Christmas gift and finding out it is also your birthday gift. This year the Williams were leaving mid day on Christmas day so we moved the celebration a day earlier - Christmas eve.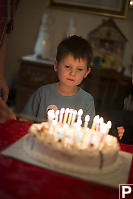 There were no shortage of helpers to put the candles in the cake and then help Grandpa blow them out. My mom found an ice cream cake where each third of the cake had a different flavor. There were no shortage of helpers to eat the cake.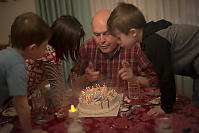 Christmas Day: Victoria
It's surprising to me what kids do and don't know about Christmas. Nara got hung up on the "Santa is watching" part of Christmas this year - how does he watch? Is he watching now? Lots of questions. There wasn't a ton of anticipation - the kids had to be reminded to go downstairs to check for gifts. I figure in a few years they will go downstairs before we even wake up.


Usually the kids saturate after a gift or two - they want to play with what is immediately in front of them.


After gifts we had breakfast and the kids played on toys from years ago. My parents have a collection of ride on toys and the kids put a few km on them every time they come over. Thankfully there is a circle route through the house so there aren't traffic jams to resolve.


After breakfast we went outside to enjoy new toys. The boys got scooters for Christmas and everyone wanted to try them out.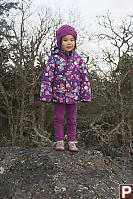 During Claira's nap, Nara wanted to go out so we went up to mount Doug. Turns out all of Victoria had the same idea so the parking was crazy busy. It was a nice day for a walk though.


Boxing Day: Courtenay
Most of my extended family lives in the Comox valley so we make a few trips a year to visit. My Aunt often has a large party on boxing day so we get a single stop to see everyone.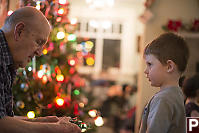 We are currently a four generation party. Different people see each other with different frequencies so the kids seem to go from new people back to people they know and then back to the new people.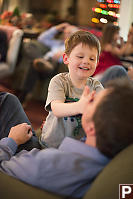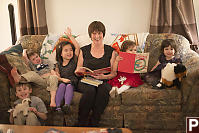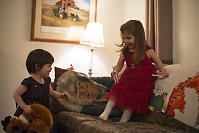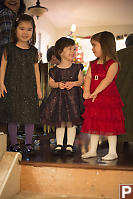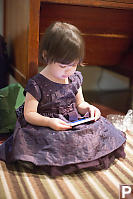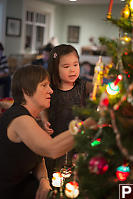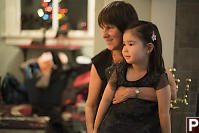 After Christmas: Comox Valley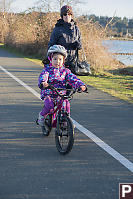 We usually do two nights in Comox - one night with a party and the next day visiting. This year we decided to do three days - we had the time off and the ferry trips are already a sunk cost so the incremental cost of an additional night actually yielded a lot more time to see and do. Our hotel was right outside the airpark - a loop walking route where Nara learned to ride her bike.

On our gap day we decided to go up to Mt. Washington with the kids and my grandfather. Helen packed enough cold gear so the kids could stay outside for an hour. Claira got cold first so Nara and I went out for a walk in the snow by ourselves. My grandfather had tea in the lodge and saw mountains he didn't think he would see again. He really enjoyed himself up there.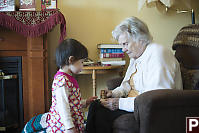 ---
Tags: McMinn Park(4), Mount Washington(3), playground(3), biking(2), Courtenay Riverway Heritage Walk(2), birthday cake(2)
People: Nara(17), Claira(10), James(9), Marcus(8), Lexi May(5), Janet(4)
From: John Harvey Photo > Pictures of People > Christmas 2014

Last Modified Sunday, January 29th, 2023 at 12:11:15 Edit
Copyright and Contact Information.