Matsumoto

A nice little town

---
We left off in Amanohashadate. We knew we wanted to get to Nikko and Matsumoto was roughly half way between the two. The day to get from Amanohashadate was crazy - we left at 10am and arrived at 11pm - local trains most of the way. It would have been faster to go "the long way" back to Kyoto, to Tokyo and then up to Nagano, but we wanted to "see the sights".
Matsumoto is in the Japanese alps - the mountainous spine of Japan. Our train trip was mostly along the Japan Sea, but started to go inland (and into the alps) just after the sun set - we missed it all.
Matsumoto Black Castle
Matsumoto has a black castle. The castle is only a small part of what used to be the castle complex - the outer moats are filled, the other buildings torn down and the roads rearranged. The castle was in pretty bad shape in the 1900's and was completly rebuilt in the last 100 years - but it's still original materials.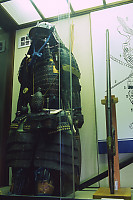 The inside of the castle is set up as a museum. They show various artifacts from the eras this castle stood. The castle was built after gun powder was used in Japan so the castle was specific designed to resist shot.


Outside of the castle there was a Chrysanthemum show going on. The Chrysanthemum is a classical Japanese flower, but these breeds shows are entirely modern.
Wasabi Farm
Having seent he castle, we thought we would see something a bit more domestic - a Wasabi farm. We took a local train east to Hotaka - a small farming town and rented bikes. These three speed bikes with baskets on the front were wonderful to ride - having been at the mercy of trains and buses, the freedom of biking was appreciated.



The farm itself was quite interesting. Wasabi (a horseradish type root plant) is a difficult to cultivate plant. It grows in gravel beds with a constant supply of fresh water. There are screens pulled over fields to cut down on sunlight.


On the Road Again
After our long trip the day before, we weren't looking forward to another train trip. Today's trip was a 3 step trip - express to Nagano (about an hour) and then shinkansen to near Nikko, and then another local train for an hour to Nikko.

Just after leaving Matsumoto, the fog started to roll in. Pretty soon we couldn't see much beyond the closest field. When we transfered to the shinkansen at Nagano we found out just how much of this high speed track is underground. Amazing.
---
Tags: Japan(20), farm(4), train(4), castle(3), train station(3), flower(3)
People: David(1), Mark(1)
From: John Harvey Photo > Trips out of the Country > A Second Trip to Japan > Matsumoto
From: John Harvey Photo > Trips out of the Country > A Third Trip to Japan > Matsuyama > Matsumoto

Last Modified Saturday, January 21st, 2023 at 23:40:36 Edit
Copyright and Contact Information.