Himeji

A Day trip from Osaka

---
This is my fourth trip to Japan. I could quite easily make a list of top 5 traditional hotels in Japan or top 5 hot springs, but when it comes to castles, there is one castle in Japan that I have always wanted to visit, and yet never found the time. Himeji.


For the easy traveler to Japan, Himeji is easy to get to. Get out your rail pass, get on the shinkansen in Kyoto and you are here in 45 minutes. For us, without rail passes (our train itinerary didn't clear the $400 needed to buy the pass) this was a 3000 yen trip from Osaka (and another 3000 yen to get back. The 500 yen admission fee was kind of a joke compared to the expense of getting there.


Himeji stands out for a number of reasons. Unlike some castles (like Osaka Castle), it was never burned to the ground (4 times). It's original (taken apparent and reassembled from time to time) and still in original shape. There is no concrete floors, no elevator to the top floor.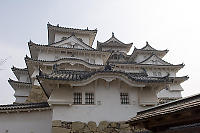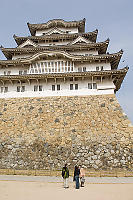 One last thing stood out to me. This castle wasn't rich. This castle was built on a river plane so there wasn't a good local quarry to pull stone from. Consequently, the stones are scavenged - what used to be a stone lantern here, a stone coffin lid there. One tour highlight is a mill stone embedded in the wall - apparently a gift from a local miller who figured prominently in a publicity campaign (a few hundred years ago). Even with all of this scrounging, the walls have a random look to them - large gaps and lots of fill. Compared to other castles (Osaka with it's huge stones, Kumamoto with it's tight stonework), it's quite a comparison.


A huge bonus for this castle was our guide. The castle has a program where foreigners (and in early February on a Thursday morning, there aren't many), are matched up with locals who want to improve their English and know about the castle. Our tour lasted well over two hours and our guide walked us through lots of details about the castle we would have missed. For instance, the layout of the gates and entrance ways would have gotten us (or any other invader) confused. Paths that lead toward the castle appear smaller and leading away from the castle. The larger gates actually just skirt the outside of the castle and lead to large open areas where the people in the castle have an easy shot at invaders who don't gain entrance.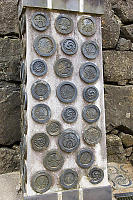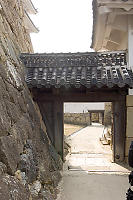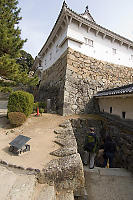 The guide told us the history about how the castle was saved when so many castles in Japan were destroyed (and later recreated). Apparently around World War 2, castles were give to the military for use. In some areas they were torn down to provide space for storage or barracks. The need to space in Himeji wasn't that urgent and since the castle was in good shape, a local man argued that the castle should be preserved as an example. It took much work to get the castle ready for use as a public museum, but it turned out to be much more valuable (at least to the local economy) than any storage site would be. I'm glad it was save.


---
Tags: Japan(14), castle(13), architectural decoration(3), roof(2), gate(2), game(1)
People: Helen(2), John(1), Mark(1)
From: John Harvey Photo > Trips out of the Country > A Fourth Trip to Japan > Himeji
From: John Harvey Photo > A Fourth Trip to Japan > Himeji

Last Modified Saturday, January 21st, 2023 at 23:48:01 Edit
Copyright and Contact Information.