Kyoto
Back in the city

---
So you are planning a trip to Japan and you are going with someone who has never been before. Are you going to skip Kyoto? Not a chance. I've been to Kyoto on two other trips before this - on my first trip to Japan (
day 1
and
day 2
) and I went again on my second trip (
temples
,
food
,
festivals
) where we had a number of Japan newbies. This trip we tried to hit the high points for Helen (hasn't been before) as well as make it interesting for Mark and I who have been before.
Fushimi-Inari
Flickr has changed the travel planning process, sometimes for the better. The guide books are constrained by the number of pages they print. They have to recommend destinations based on the competing attractions, difficult getting there and perhaps fashion. Flickr doesn't have a page limit so a search of top ranked photos of Kyoto will turn up what is most photogenic, not what is easy to get to or deemed a "must see". Of course you can't use that advice alone because some places have only one shot and have no depth, while other attractions may be only attractive on a few critical days. That said, Fushimi-Inari (which is written up the guide books, but not highlighted) scores well on Flickr and definitely didn't disappoint.


When I looked at photos of this location, I noticed that the crowds definitely diminish the visual appeal. Therefore, we made this our first stop of the day, and an early arrival at that (sorry Mark!). We were rewarded for our efforts - being winter, mid week and before 9am, we basically had the place to ourselves.


Temples in Japan in some ways display the same long tail effect as blogs or books or music - first mover on a concept achieves lock in (that place with the ...) and other temples with similar elements fail to capture significant share. Of course there are many different things temples can be unique for, but do it very well or expect to be noise. Fushimi-Inari does Torii - the gates - very well. Every gate is sponsored by a person, family or corporation (some from Tokyo and further) and they pay to have it erected. They have so cornered this market they appear to lack for ground (not really - there is actually quite a bit of land here), but I'm sure they want to appear scarce.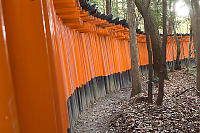 Walking through, you experience different types of light (you are effectively in two forests at the same time), so while the subject is similar, the conditions allow for different images. I was quite glad to have looked on Flickr in advance because it gave me some ideas to try out when I got there.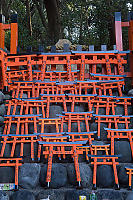 You can get so caught up the "Torii Tunnel" that you forget this actually a working shrine where real families go to meet there religious needs. Unlike most temples, here the practice is to purchase a small Torii and write your name on the right side, the date on the left and leave it at a shrine.



In my mind, Fushimi-Inari is one of the top destinations in Kyoto and knowing what I know now, I might have gone to it sooner.

Kiyomizu-dera
Mark had been to Kiyomizu-dera before and recommended it from personal experience. The view of the Pagoda above fall colours with a sunset or moon behind it is an iconic image of Kyoto. Given those two recommendations, how could we not go?



The walk up from the closest train station is a bit long. At least half of the walk is up tourist dominated streets thick with shops beckoning you in. When you get to the top of the street you find a set of stairs and find yourself in the quiet of the temple. This is one of the top destinations so even on a morning in winter, expect lots of company. The temple is laid back (not a lot of rules) and you can dwell to take photos.



My favorite part of this temple is the Jishu-jinja shrine - a shrine for luck in love and relationships. There are two stones set in ground and your job is to walk from one stone to the other with your eyes closed. I'm not really sure what it tells you - success at the traverse is a good sign, but if you had to have a friend help you walk the distance, perhaps it's not so good? Not surprisingly, it was almost all women doing the inter-rock walk.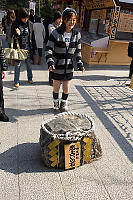 We headed back to Ryokan to have lunch (we found a curry shop), and then get ourselves ready for the afternoon.

Kinkaku-ji (The Golden Pavilion)

If there was a list of iconic sights in Kyoto, Kinkaku-ji is probably number one. This place can handle amazing crowds, mostly because you can see what you came for in 5 minutes. The walk through the gardens behind the temple are nice, but this really is a one trick destination. That said, you really can't say you've been to Kyoto if you haven't seen Kinkaku-ji.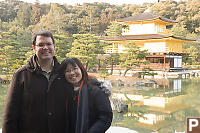 Ryoan-ji
Ryoan-ji was a disappointment. I've been twice before and I've found it a sombre place for reflection and consideration. In the fall or spring, there is foliage in display behind the garden. This trip, the temple was under construction. The viewing platform you normally sit on was under repair and new elevated floor was erected above existing floor. This new floor extended much further forward which changed the perspective. The garden enclosing wall wrapped in scaffolding and the stone surround was emptied. Add construction noise and this is hardly the experience I remember. I was quite surprised they were still charging full price for admission, but they had no shortage of guests.

This being the destination of day we took our time walking around the garden.


Being winter, the maples and cherry trees are bare, but the evergreens still provide volume to the canopy. The moss looks tired and the pond was much lower than it would be after a moist spring. Just as I was running out of ideas, I saw a small plum blossom bush coming to flower. Thank you gardener!


A Day Not Looking at Temples
There was a running argument going on in the latter half of the trip - are you a tourist or a traveler? Helen and Mark quickly proved themselves to be travelers (really, there was no question), but I was squarely a tourist. One of the strikes against me was my interest in tourist destinations - basically any place with an admission fee. Helen and Mark figured they would show me how "travelers" do it.


Step number one - spend some time shopping. I live in a small apartment and since I frequent tourist destinations, I often see the junky end of the tourist junk scale. Shopping allows you to get deeper into the culture - see what is popular, and perhaps pick up something useful that you can't get at home, but will remind you of your trip. For instance, Helen and Mark found an incense shop that they both purchased burners and incense from. I took pictures of smoke. (It's worth pointing out - don't take pictures in shops. Almost no shop appreciates it).




Step number two - eat well. In the town you live in, you probably have a list of favorite places to go, and you know places that aren't worth visiting. It's the same in any city. The best places you need to research, but the reward can be fantastic. Helen found a tempura place in Gion that has the worlds best tempura, hands down, stop trying. It was so good I would have been happy never eating tempura again after that meal. Small place you would walk by except for the lineup, but it's worth the effort and there isn't an admission charge. Funny enough, we caught the Japanese couple seated next to us taking pictures of their food too.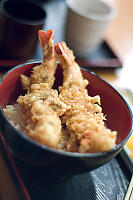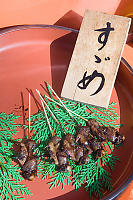 Outside of destination food, keep your mind open about eating in markets. Sometimes you will find food items that are unique to the area or even the vendor and it forms a lasting memory of place. Travelers graze, tourists fill up at cheap places to avoid spending money.


Chasing Geisha
This wasn't really my plan when I looked into Kyoto, it just sort of happened. Memoirs of a Geisha rocketed the Geisha into the limelight in the early nineties and I suspect it has even influenced Kyoto. Unlike other trips, we found "dress up as a Geisha" as a tourist activity, and found fake Geisha walking about. How can you tell? When I saw Maiko perforce at the theatre in Gion, I was struck by how elegantly they moved. That was confirmed years later when a Maiko visited a ryokan I was staying at. The women you see dressed up during the day are still adjusting to their footware.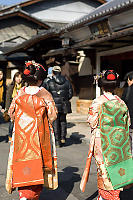 The guidebooks suggested place in Kyoto where you are more likely to see Geisha. On our travels around Kyoto, we would run into alleys or restaurants that just seemed from another world - simple but elegant. While we never saw a geisha (honestly, we were out too early) I'm pretty sure we did see Maiko (Geisha in training). Chasing in some ways makes you feel like a stalker and definitely reinforces how much of an outside you are, so I'm pretty sure it scores you points in the "tourist" category, not traveler.

Kyoto is a favorite town of mine - I really would consider living here if it made any sense. Our two days in Kyoto went by way to fast, but we had commitments to be in
Mt. Koya
so we got a move on.
---
Tags: Japan(24), torii(8), lantern(7), costume(3), restaurant(2), pagoda(2)
People: Helen(2), John(1), Mark(1)
From: John Harvey Photo > Trips out of the Country > A Fourth Trip to Japan > Kyoto
From: John Harvey Photo > A Fourth Trip to Japan > Kyoto


I'm really amazed by your travel blog!!! I'm just starting to take photos using my new DSLR camera and your pics are truly inspiring! Good job. ./Chas

Charles

Saturday, April 11th, 2009 at 09:21:51

Wow... a definite 'traveller' rather than 'tourist' I was about to leave Kansai without seeing Kyoto. But after seeing your pics I'm going to cough up for the train and submit to the Sunday crowds. The tunnel shots are divine. Best blog I've seen this week! Cheers

becx

Saturday, September 5th, 2009 at 18:19:18

i really like you're photography and i like the make up of a geisha. good job

jose leon
Friday, January 21st, 2011 at 10:00:29


Last Modified Monday, September 7th, 2009 at 22:40:45 Edit
Copyright and Contact Information.