Mt Koya
The large cemetery at the end of rail

---
Everyone has a limit for temples/castles/cathedrals and when we were planning this trip I was concerned about seeing more temples after having visiting
Kyoto
. Mark showed me a picture of Mt. Koya and it was on the itinerary.
To be honest, I had never heard of Mt. Koya before Mark showed me a picture. In hind site, it's probably because we didn't do that much time reading about Osaka and the area. Basically Mt. Koya is temple on a mountain that open more than a thousand years ago. Being Japan, no mountain is really that far away (there is a nearly direct train from Osaka that takes about an hour and half) and if a temple is worth visiting, a whole tourism industry will grow up around it. There is now more than a dozen "temple lodgings" -
Shukubo
- at the top of the mountain, each with a different experience.
Getting to Mt. Koya is quite interesting. First you take a train out of Osaka and you watch as the city thins out, farms start to appear and the town becomes limited to the immediate area around train stations. Near the end of the line, you climb up into the mountains and the train travels through tunnels interspersed with bamboo forests. You pull up to a station that has no town around it and transfer onto a "cable car" - a cable driven tram up the side of the mountain. The tram is very similar to the peak tram in Hong Kong, except it is steeper and (in our case) not nearly as busy.



Once you get to the top, you hop on a local bus and stop at you temple lodging. Walk in, pay in cash in advance, notice how cold the air is, and try to get settled in.


Okunoin
After we unloaded our bags (and got a little warm) we went for a walk in Okunoin. Okunoin a giant cemetery (but you don't see caskets or anything). It's set in a cedar forest with ancient trees and everything is covered with moss and lichen. There are stone lanterns guiding your way to a temple complex some 1.5km away. Most sites have stupas - stone pillars inscribed with family names, but some sites are much more complex with gates, fences and family of more complex stupas.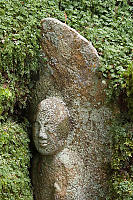 Dotting your path are Jizo - small statues. There is a variety of interpretation for these. They are often ornately dressed (often with red hats and bonnets). Some people believe these statues represent a lost child or baby, even a miscarriage. Jizo is actually a god and serves as a protector of children. In the mythology, children don't get into the afterlife because they haven't yet accumulated enough good deeds. Jizo helps these children by hiding them under his robe. Either way, Jizo are solom markers of a difficult time.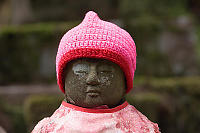 Our temple provided dinner and breakfast and they were quite clear we should be on time. We turned around well before we got to the temple complex proper. I went out after dinner for some night photography, but the the dark forest combined with terribly unromantic florescent lights made it hard to find much. The next more however, we were blessed with fog and new snow! Walking around (almost alone - my fellow travelers decided to give me a two hour head start) in this massive cemetery while it lightly snows was magic.



Eventually you do get to the temple complex at the end of road and what do you discover? Closed for renovation! There is a smaller temple to the side that houses 20,000 lanterns. They is lots of signs up (in Japanese and English) tell you to not take photos. Turns out if you are alone and polite, the monk doesn't seem to mind to so much. Each lantern has an inscription on it. Of course I can't read them, but Helen told me it was roughly poetry.


There are other sights to see at Mt Koya, but after our luck with the weather in the cemetery, I didn't feel like stalking monks in more temple complexes. We reversed out trip back (love that tram way) and found ourselves back in
Osaka
with lots of time before dinner.
---
Tags: Japan(6), lantern(6), funicular(4), train(4), Jizo(4), torii(2)
People: Mark(1)
From: John Harvey Photo > Trips out of the Country > A Fourth Trip to Japan > Mt Koya
From: John Harvey Photo > A Fourth Trip to Japan > Mt Koya


My wife and I were there. I think we stayed in the same room. Nice images.

Mark
Sunday, January 23rd, 2011 at 07:50:32


Last Modified Tuesday, June 9th, 2009 at 01:40:26 Edit
Copyright and Contact Information.