Tokyo

Welcome back to Japan!

---
Ueno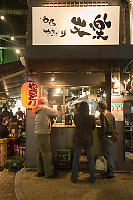 Ueno at some point was it's own town, mearly close to Edo (now Tokyo). Eventually it was absorbed into mega city, but it still retains many of the city properties you like to see. Like a market! Turns out being close to the Ueno train station (which is a shinkansen station, a stop on the train from the airport and a pretty good subway stop) was a really good idea so we started our Tokyo adventure here.


Ameya Yokocho

Under one of the elevated rail lines near the station is a market called Ameya Yokocho (roughly candy store alley). To get our shopping brain engaged, we took a brief walk down the alley.


It's a nice food market with lots of restaurants and not a lot of tourist junk. Tons of Pachinco places. This doesn't strike me as a neighborhood where a lot of locals walk over, but I guess enough people go shopping to keep the place busy.

Sensō-ji
Helen knew this great soba place in Asakusa, so we decided to get lunch before her shopping began. Completely unknown to us, just down the street is Sensō-ji - a temple complex with massive red lanterns to mark the entrance. We walked down to investigate. Turns out it's a school trip shopping mecca, but they have really good
sembei
- freshly toasted rice crackers. Sembei is one of those foods I've found everywhere I've traveled in Japan.

The market area in front of the temple and shrines was much busier that the temple itself. They had an incense burner, but unlike Hong Kong, it seems uncommon for people to bring their own Incense to light and pray with. Also unlike Hong Kong, people here seem to enjoy getting a bit of smoke in their eyes - it's considered a good luck omen.

Tsujiki Fish Market
Tuna Market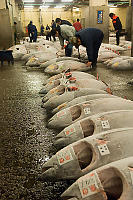 The last time I was in Tokyo, I visited the Tsujiki Market. Well, not really - I took the subway to get there so I arrived well after the Tuna Auction occurred and I didn't actually know where the Market was so I wandered around the outer market for way long than you would if you knew where things were. This time we came prepared. Our hotel (with a 24 hour front desk) ordered a taxi for us. We arrived half an hour before the auction and since I knew the general layout of the market, we got to the auction area with enough time to actually get in and setup.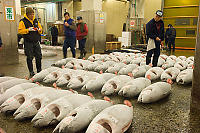 The funny thing is it was almost for not. The Tsujiki market is now squarely on the tourist "to do" list. Rough Guide lists it as the #3 on the "Things Not To Miss" list. Buses of tourists show up now. About a month before we went, a tourist reached out and touched an unsold tuna and a minor tempest was released. The market was closed to tourists (apparently permanently) and notices went up. After about a month (about a week before we arrived) the policy changed, but there was now a roped in "tourist" gallery and "minders" to ensure we behaved ourselves. Sadly, it's all necessary.


The floor is organized into columns of fish, apparently by size and perhaps by other factors. The Auction began with the loud ringing of hand bells and then three teams of auctioneer and recorder started auctioning the fish in front of them. The auctions are pretty quick - 20 fish are sold is less 10 minutes. The auctioneer move to the next column of fish, ring the bell for about a minute (drawing a new crowd of buyers) and then start selling. The auctioneer is yells and gestures widely. Soon enough, he is done and moves on.


In about half an hour all of the fish were sold and the buyers left the room. The fish were marked with the winners (either by a piece of paper that froze onto the surface, or thin red paint painted on the side). Teams of movers came in and loaded up hand carts with fish.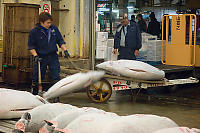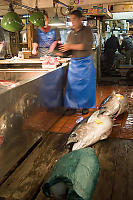 The fish then moves out into the market. Frozen fish is cut with a band saw into smaller chunks which might be thawed by dumping into pails of water. Fresh fish moves to butchers with knives as long as swords who start cutting the meat into the specific cuts buyers are looking for.


Tuna may be the rock star fish around here, but there this is a full service market - all sorts of seafood is sold. I've been through the
seafood part of the Tsujiki market
before and I must admit I took a better job then. (Might have something to do with my travel mates desperatly wanting to eat sushi at the restaurants in the Market and then getting back to the hotel for a nap before we took the train to
Gunma
prefecture).
---
Tags: Tokyo(10), Japan(10), fish market(5), market(4), fish(4), temple(1)
People: Helen(1), Mark(1)
From: John Harvey Photo > Trips out of the Country > A Fourth Trip to Japan > Tokyo
From: John Harvey Photo > A Fourth Trip to Japan > Tokyo


...great photos, I must try to get to the fish markets one day, were all your Tsukuji photos taken from behind the tourist rope?

andy

Sunday, May 6th, 2012 at 07:20:27

> were all your Tsukuji photos taken from behind the tourist rope?
They were firm about the rope before and during the auction. After the auction, the tourists ran away and if you were respectful, I'm sure you could have walked in. I took pictures from the open garage doors.


Last Modified Saturday, January 21st, 2023 at 23:47:30 Edit
Copyright and Contact Information.