Lynn Canyon
an afternoon walk with my 6x6 camera.
---
I've done the Lynn Headwaters hike a few times, but I never got around to doing Lynn Canyon. One afternoon Andrea and I were looking for something to do so we did an afternoon hike in Lynn Canyon. I took my old fashion 6x6 Mayamia so all the pictures are square.
The hike starts out dramatic. The suspension bridge at Lynn Canyon is very bouncy and cool to walk across. Once you are across the bridge the crowd changes dramatically - fewer and they have swimming gear. Andrea and I took a slow walk along Lynn Creek taking pictures of whatever caught our eye.

The trail floows the water for a while and comes to a large pool where people dive off the rocks and swim. The water in June is cold! Then the hike turns up into trees.
If you continue north you head into the Seymour Demonstation forest - a large forest on the mountains used for measuring and testing forest practices. Scatter on the site are pieces of logging gone by such as this Log chute below.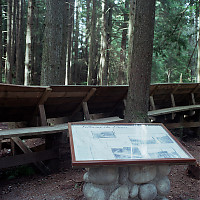 If you wanted to you could walk up to the Seymore Dam - 11km from the start of the hike. The day was getting late so we stopped at rice lake and returned back to the Canyon.
---
Tags: rock(2), trail(2), bridge(1), stream(1), tree(1), moss(1)
People: Andrea(1)
From: John Harvey Photo > Lynn Canyon
From: John Harvey Photo > John Harvey Photo - Hiking > Lynn Canyon

Last Modified Tuesday, June 9th, 2009 at 00:32:24 Edit
Copyright and Contact Information.