Porteau Cove
Half way up Howe sound
---
Porteau Cove was by far the nices site we dove with on our Basic Course.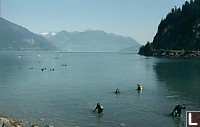 The site is completely set up for divers - a nice stair way, sunken wrecks, large buoys to guide us out and keep ships away and a sandy bottom to put on our fins. You couldn't ask for more (divers.)
For this dive we broke into some non-traditional groups and explored the shallow wrecks and other toys. Like always, I was the first one out and taking pictures as groups came back in which was complicated by the other diving groups also diving at the same time. (Strangly enough, they also wave back when you wave to them and are probably still wondering where there photo's are.)

See you out there!
---
---
From: John Harvey Photo > John Harvey Photo - Scuba Diving > Porteau Cove
From: John Harvey Photo > Porteau Cove

Last Modified Tuesday, June 9th, 2009 at 00:25:51 Edit
Copyright and Contact Information.