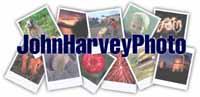 October 2019
Jam Packed for the Month of October!

---
Thanksgiving in Courtenay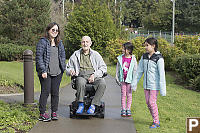 In the summer we camped in Comox Valley and visited family. We were told to come back for the big burn in the fall!




When we got to the farm, we found out the marshmallow roasting sticks had gone missing! We can't have a camp fire without marshmallows so we took a tractor ride down to the lower field to cut some sticks from young alder trees. The kids loved the ride in the bucket.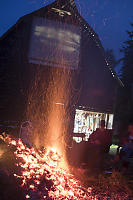 The fire was actually started in afternoon and has slowly burned down to massive pile of coals. The heat thrown off
was enormous. My aunt Jennifer had kindly cooked a meal and we enjoyed dinner around a massive campfire.



We missed a day of Chinese class so we spent some time in a hotel studying. In the afternoon we visited the Shamrock Farm to look at the pumpkins.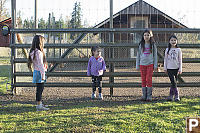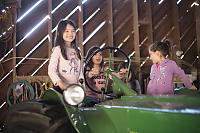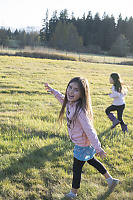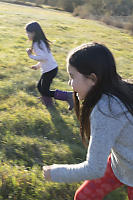 f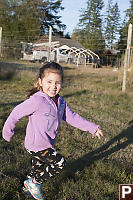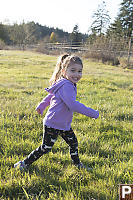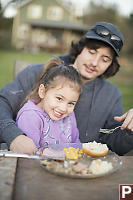 Halloween Howl!
The kids school do a Halloween Event/Fundraiser every year where they decorate the school and the kids get lots of treats.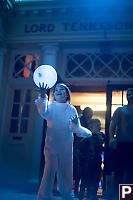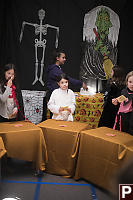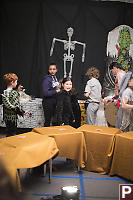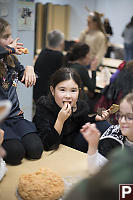 Sunshine Coast Art Crawl
I had heard of the Sunshine Coast Art Crawl the year before when we did a long
weekend trip in Davis Bay on the Sunshine Coast
. Some of the studios were open on that weekend, but the art crawl brochure promised more than 100 artists showing! A few months in advance I booked reservations for the ferries and we made a weekend out of it!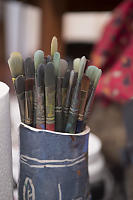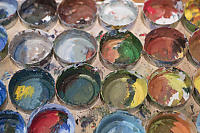 Halloween!
This year we were invited by Nara's friends parents to join them in Douglas Park Area for some trick or treating.


Douglas Park is a zoo. There are sometimes line ups to get to the front door. The sidewalks are crowded with parents and strollers. It's great fun!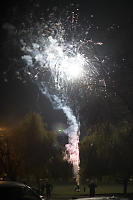 ---
Tags: art crawl(4), night(2), craft(2), fall colour(2), Halloween(2), balloon(1)
People: Claira(13), Nara(11), Arabella(4), Shelton(1), Lexi May(1), Helen(1)

Last Modified Sunday, November 17th, 2019 at 00:21:22 Edit
Copyright and Contact Information.