Castlegar to Radium Hot Springs

Where do we change the clock?

---
Castlegar is a funny town to wake up in - it's surprising large considering it seems to be out in the middle of nowhere. There are lots of attractions within an hour or two driving distance, but unfortunately, we didn't have time to poke around. We drove up into the mountains and started to get snowed on.



And we came out of the mountains and that snow changed to rain. And rain. And rain. We drove to Cranbrook for Lunch (at a nice place called Heidi's) and continued north, still in the rain. The roads straightened out, the climate changed to dryer, and the rain stopped.




It was about 4pm when we pulled into Radium hot springs. We booked a room at the big hotel on the hill (apparently they used to be a Howard Johnson, but they don't talk about that any more).



I've been to lots of different hot springs in British Columbia (map check - we are still in BC right?), but I think Radium is the oldest one I've been too. I remember coming here as a kid with my parents. I didn't really get it (I seem to remember throwing up), and I feel sorry for the Japanese Tourists - this is a pale imitation to what they are used to. It had been raining all day so the water wasn't quite as warm as I would have liked. On the plus side, it was relatively empty and they are open great hours. I came back as sunset was coming in and asked everyone in sight if I could take pictures - no one objected.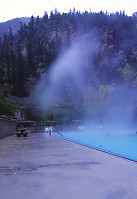 We drove back into town (unfortunately mostly tourist traps) for dinner and found a pub type place.


---
Tags: hot spring(4), Rocky Mountains(4), pool(3), panorama(2), fog(1), lake(1)
From: John Harvey Photo > A BC Road Trip > Castlegar to Radium Hot Springs
From: John Harvey Photo > John's Overnight Page > A BC Road Trip > Castlegar to Radium Hot Springs

Last Modified Tuesday, June 9th, 2009 at 00:47:20 Edit
Copyright and Contact Information.