There is only a few reasons you won't enjoy the trip from Banff up to Jasper and we found two of them: it's foggy so you can't see anything and it's raining so you won't get out of the car. Recovering from the good hike yesterday, I wanted to go stand on a glacier - visit the Columbia Icefield. The last time I was through we got there but didn't have enough time to justify a trip on the glacier. This time I wanted to dedicate a day to walking around. When we got there we found out the glacier was closed - the fog, wind and snow made the conditions too poor to allow people out and it didn't look like it was going to get any better. I resigned to taking photos of the Ravens.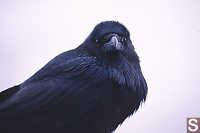 As much fun as spending the whole day in a car is, we pulled over at Mistaya canyon and got a walk. This is a deeply cut potholed gorge - you can see the walls have suffered for years. It's a short walk and good to get out of the car.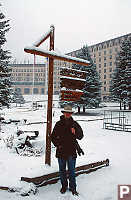 This is the second time I've been to Lake Louise and not been able to see across it. Forget hiking up to the tea house. I'm starting to get a little frustrated - but on the bright side, we did find the deli (open 24 hours) and they had great sandwiches!