Howe Sound Crest Trail &
Black Mountain.
---
It was a beautiful Sunday and we had to go for a hike. I've done the Howe Sound Crest Trail before with Kevin Stanley so I knew it would be a good trip. The trail is funny - it stars with some of the most beautiful views and then goes into the forest for a long period of time.
The first view before you enter the trail proper is beautiful and so widely photographed it's almost cliché. You continue along the ridge and into the forest. A few minutes in you find a map shelter and glorious view of the lions.
And from there the trail went down hill. Another few minuets into the trail, a tree has fallen across the trail adding a little challenge. The tree had been their a few weeks and probably fell because the soil supporting the roots had been water logged. A few minutes later, an even larger obstacle - a snow ridge.

The snow that made up the ridge is from last year - it's lasted all summer. Because of some poor footwear and the possibility of a fall we decided not to risk going further - we turned around and went back. Turning back, you are treated to another spectacular view of Howe sound.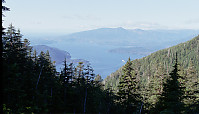 Getting back to the ski area we walked down to the village, had lunch and decided to hike up Black Mountain.
Black mountain is the smaller of the two mountain in
Cypress Provincial Park
. Hiking up is literally hiking up a wide road.
Once you reach the top of mountain (ski lift) you can towards the Vancouver side of the mountain. Down a gully, and onto the next hill you reach the lakes area of the mountain.
From this glorious lake, its a 5 minute walk to the top. Once at the top we paused for pictures, sent an e-mail to Mark and then started the cold hike back.
A few minutes down (past a long steep skating rink) we came to this sweeping vista. (This is a five pictures seamed together.)

This seemed a fitting end to a great day of hiking.
---
---
Tags: coast(2), hiking(2), mountain(2), atmospheric perspective(1), sign(1), twin(1)
People: David(5), Karen(4), Jesse(3)
From: John Harvey Photo > John Harvey Photo - Hiking > Howe Sound Crest Trail & Black Mountain
From: John Harvey Photo > Howe Sound Crest Trail & Black Mountain
From: John Harvey Photo > Howe Sound Crest Trail & Black Mountain

Last Modified Tuesday, June 9th, 2009 at 00:40:13 Edit
Copyright and Contact Information.