Cathedral

First Part of a Summer Trip

---
In the spring of 2021, the COVID fight wasn't going well. There were travel restrictions - people from the lower mainland weren't allowed to travel to the Island or the interior unless they had a valid reason like school or caring for a parent. Police enforced this on the highway. At that point, planning a summer vacation was tough, but there was light on the horizon - Vaccines were starting to arrive in quantity. In this environment I booked our summer plans to be conservative - stay away from crowds and ensure there was a good cancellation policy. Part 1 of my summer plan was to take the family to Cathedral Provincial Park. I actually
visited Cathedral Provincial here once before
in 2005, but only as a day hiker.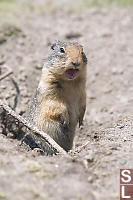 We left Vancouver at a decent time and stopped at lightning lakes in Manning Park for lunch. While I had planned the road trip out in advance, Google Maps on my phone gave very worrying times for the travel so we didn't stick around long for lunch.

It turns out Google estimated the dirt roads at less than 30km/h when the speed limit was 50km/h. We arrived at the base case and gor outselves ready for the one hour drive to the top of the mountain. Nara got the front seat because it's a steep twisty road up to the top.

We arrived at the camp at 5pm and unloaded into the cabin. Because we were arriving later we booked dinner the in the lodge that night. It was spaghetti night with ice cream and peach crumble for desert and the kids really enjoyed it. After dinner I went for a short walk up to a viewpoint over the lake.
Hiking Lake of the Woods and Pyramid Lake
From the base camp area there are number of loop trails. We picked a started day - hike to Lake of the Woods and then Pyramid Lake.



We were most of the way around Lake of the Woods when I spotted some white in the trees off the trail. We quickly figured out it was a mother mountain goat with a juvenile and baby in tow. The animals were certainly aware we were there but they didn't seem to care too much. They were eating and moving and it didn't take to long before they were out of sight. What a great visit with a large wild animal!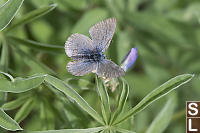 After dinner (Helen made in the cabin) Nara and I went out for walk. We were covering the same trail we did in the morning looking for good light. We were quite lucky to stumble upon a grouse eating berries in the short plants.


Hiking Diamond Trail
The Lodge has a weather report updated every day and it looked like Tuesday was going to be our best weather day. Diamond trail is a new trail to me and the lodget suggested there would be lots of wild flowers as we went around the mountain.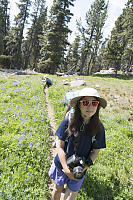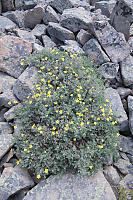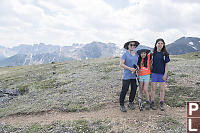 Around Quiniscoe Lake
Wednesday weather was going to a mixed bag - nice in the morning, a rain storm around lunch time and then a nice afternoon. We were hurting from the big hike the day before so we decided to just take a short walk around Quiniscoe Lake.

At the far end of the lake is a waterfall which you can hear from camp. There isn't a good angle to really capture it's size, but it is quite a bit of water coming down. I have
seen this waterfall before
on my previous trip.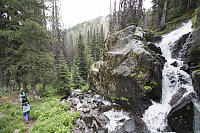 We came back to camp just before it started raining and then raining hard. We had lunch listening to the water hitting the windows.


Life at Camp
There is quite a bit to do in camp if you aren't out on a hike. They have canoes available for use - being a calm day we had no problem paddling across the lake and bake.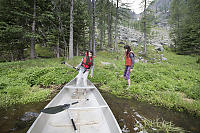 They also have Japanese style Hot Tubs! All of the hot water in the camp is made from a central wood fired boiler and the second story has a outdoor hot tub area. You can book one of two time slots a day in one of three hot tubs. The water started out really hot so you have to mix it down to a comfortable temperature and then enjoy the soak. Too cold? Add more hot water!



Being a long way from any city, there is also lot of opportunities to see stars at night! It was early July (only two weeks from the summer solstice) so night was quite short. I woke up at midnight to leave my camera taking photos on the dock and then woke up again at 1:30 to finish it up. The Milky way was quite clearly visible in the night sky.



There are also a surprising number of wild animals close to camp!


On the morning we were leaving, Helen woke up early and saw mountain goats outside the window! We got dressed quickly and found the goats were in camp close to the lodge. They were eating some of the soil and licking wood - apparently they really enjoy salt. There were two females present and a number of one year old and this year young.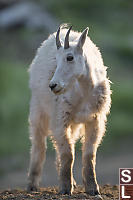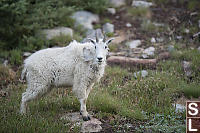 And all too short, it was time for us to pack up and be on our way! We had booked a spot on a 9am truck down so we could get on with the rest of our trip.


---
Tags: lake(2), astrophotography(2), milky way(2), butterfly(2), hiking(2), panorama(1)
People: Claira(6), Nara(5), Helen(2), John(1)
From: John Harvey Photo > Blogs for 2023 to 2005 > Cathedral
From: John Harvey Photo > John's Overnight Page > Cathedral

Last Modified Sunday, January 22nd, 2023 at 00:10:05 Edit
Copyright and Contact Information.