Christmas 2010
It rained this year

---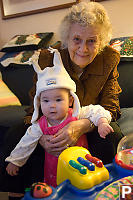 Most years we take a "Rock" picture out on the rock in my parents back yard. This year it rained the whole weekend so a rock picture would have been rather wet. Always willing to shake things up, this year we stayed inside and used my mothers living room.
Christmas
This year we had Christmas at my mothers house. Christmas doesn't make much sense to an eight month old so we tried to keep the shock and awe to a somewhat reasonable level. Of course she loved the packaging and paper way more than what they contained. (It takes Nara a while to warm to new toys).


---
People: Marcus(4), Nara(4), Diana(3), Edna(3), Jeff(3), Jessica(2)
From: John Harvey Photo > Pictures of People > Christmas 2010
From: John Harvey Photo > Blogs for 2020 to 2005 > Christmas 2010

Last Modified Friday, January 14th, 2011 at 03:07:44 Edit
Copyright and Contact Information.