Christmas 2015
Traditions

---
It won't happen every year, but this year both Helen and I had a long stretch of holidays over the Christmas break. We packed up the kids and gifts and headed to Victoria to celebrate Christmas. We had a cold snap (zero degrees Celsius!) so I thought I would try something new - Butterfly World!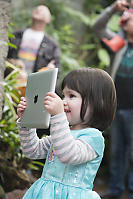 The birds at Butterfly World can be extremely loud and Claira didn't do well with the loud noises. (She doesn't like the parrots at the Aquarium or the Blodel Conservatory either). Trying something new, I brough iPads for the kids to take photos with. Kids and cameras seems like a bit of a tricky trade-off - cameras can very quickly cause compulsion behavior (Got to take a photo of everything) but on the flip side the girls spent a lot more time at exhibits (like the frogs) than they did the first time without a camera. Overall I was pretty happy - the kids did really enjoy taking photos and it distracted Claira from the loud noises but one of the iPads was dropped on the cement and screen was shattered. I've since made alternative arrangements (bought a "shockproof" AW130).

Claira has naps in the afternoon so I often take Nara out for a walk. We visited Swan Lake to see what would be easy to see. Being later in the day most of the birds were well away from the pedestrian areas, but it's still nice to see the diversity at Swan Lake.




I'll be honest, we didn't put up a Christmas tree this year - Grandma does such a great job of it, anything we did would just pale in comparison. Grandma has multiple Christmas trees (a logical consequence of buying more and more ornaments) and many decorations scatter throughout the house.


New activity for this year, we set out treats and chocolate milk for Santa Clause. The theory was that this would help the kids get to bed and prepare for the activities Christmas morning. Claira is of course smart - she grabbed her blanket and wanted to sleep in one of the child sized recliner chairs waiting for Santa to arrive. Of course that wasn't an option.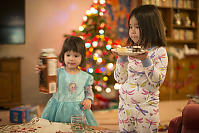 And then the big morning arrived! I'm always surprised how one of two gifts really stand out. Claira received a pink bunny which was an instant favorite. Nara received a horse with wings and you would have thought it was here separated at birth long lost sister - Nara held it in her hands for hours.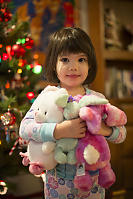 Christmas day is my fathers birthday so usually have birthday activities in evening. Tonight it was Chinese Food at a downtown restaurant and then (surprisingly) musical instruments came out. Neither I nor Helen are particularly musical (although Helen does know how to play the piano). My dad took up stringed instruments in his retirement so he showed the kids a little bit about playing them.


Comox For Boxing Day
My aunt kindly hosts a party for Boxing Day and it's one of the largest gatherings of the extended family each year. My grandparents had four children so there are lots of cousins and aunts around in any given year.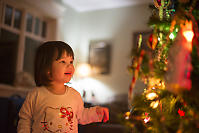 My grandmother still knits prolifically and manages to make gifts for her great grandchildren. I have a soft spot for people who actually make things for gifts - not only does it show skill, it also show attention to the recipient because it's usually made just for them. This year the girls received mermaids (in the disney style) and they were thrilled. They still sleep with them.

The party is also an opportunity to take photos of relatives I don't see that often during the year. This year we went with an almost canned formal setup - the teenagers aren't so keen on having their photos taken without attention to appearance so I having the opportunity to setup the shot instead of hit or miss candids seemed like a reasonable compromise.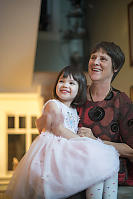 Of course young kids have no such issues so you can just shoot away. I currently take dozens of photos of my kids a year. When they hit teenager (or sooner) I'm sure that number will decline significantly.




We booked a few nights in Courtenay so we would have the chance to really visit the family and enjoy the valley attractions. One morning we went up to Mount Washington for a day of tubing! Our first stop was Canadian Tire to buy chains (no refunds, exchange for 3 days only) and then we drove up. The tube park doesn't open until 11am but we were up by 10:30 and we quite likely got the last parking space on the whole mountain. We bought two two hour passes (22 dollars each) and away we went! The first few slides were really quick (slide down, ride up, repeat) but as time went on, more people arrived and it took longer between getting to the top and sliding again. Our last slide was just before 1pm and we waited in line 30 minutes before we could slide.



The slide itself lasts about 20 seconds. I figure we rode about 8 times in two hours so a total slide time of 160 seconds or just under three minutes. Skiing isn't cheap, but it is a much better deal.

Claira doesn't last forever so we need to get down the mountain for nap. With Claira napping, Nara and I can do our own little side trip. I stopped by the grandparents house and picked up my Grandfather for a push around the air park. The air park is really flat so pushing a wheelchair 2.2km is almost easy.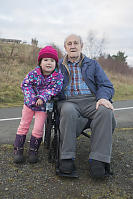 We also visit my grandparents! My cousin and her two children (Lexi and Arabella) are in town so we all of the kids can play together. Lexi is in between Nara and Claira for age so they work out well together.




The new kid on the block is Arabella - Lexi's little sister. She is about eight weeks old and already has lots of strong opinions - how she likes to be held and when she is going to eat.



Thanks Everyone for hosting us and making for such a great holiday trip!


---
Tags: christmas tree(1), ball(1), birthday cake(1), Courtenay Riverway Heritage Walk(1), Swan Lake(1)
People: Claira(12), Nara(8), Arabella(4), Lexi May(3), Janet(3), Marcus(2)
From: John Harvey Photo > Pictures of People > Christmas 2015

Last Modified Saturday, February 6th, 2016 at 22:09:28 Edit
Copyright and Contact Information.