F440 Racing

Go Karting on Andrea's Birthday.
---
Andrea wanted to go Go Karting for her birthday so we drove out to Tsawwassen to a
local track
. Let me introduce the contestants!

Jer loves high speed racing and danger! Never to be underestimated, loves fighting it out in the corners! Beware of his finger poke pass!

Mark is known for his aggressive passing, never ending challenges and control of first - don't get in his way!

Eric is returning to North America after his successful European tour! Already committed to a Japanese tour, we are privileged to see his racing styles!

Andrea will tear you up in the corners and spit you out on the straight aways! Andrea has been street racing for years so this Go Kart challenge will be easy!
Starting Line up and the tension was obvious in on the racers faces!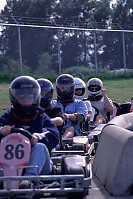 It didn't take long for the first challenge to appear - Jer takes out Eric on the last corner of the first lap - luckily there were no casualties!
Racing broke down to a three way challenge - Andrea "Birthday Girl" Schiel showing people how it's done!
What's this! Sudden reversal! Mark roars out in front and never looks back! This race is won - but just wait till next time...
---
Tags: racing(8)
People: Jeremy(3), Eric(3), Andrea(2), Mark(1)
From: John Harvey Photo > Go Karting

Last Modified Saturday, January 21st, 2023 at 23:40:06 Edit
Copyright and Contact Information.