Shoot 2
The day I learned to love my 85mm f/2.8 PC Micro-Nikkor
---
For years, my favorite lens has been my 105 micro. It made me feel like a hero when I shot with it, and it could cheer me up when my other lenses gave me too much latitude to play with. With my D2X, my 105 is now a 150mm lens and it's not so friendly anymore. I purchased the 85mm about a year ago when I found it for sale used (half price) in like new condition. I tried shooting with it and never got anything useful -
including my last shoot
. This time - perhaps the lighting, the makeup and the hair - it really worked out well.
Our first set was the couch with Ola (sp!). The light was mostly overhead, with a side light to highlights and a kicker lighting up the back wall. This was my first time with the big hair and Ola is tall.

The second shoot was with Kat (sp!). Syx set up a "Natural" light setup - a 500W halogen lamp on post with a scrim in front of it. Color balance was almost comical, but it worked out well in post production. These are my favorite shots from the day.


The last setup was at Jeremy's house - across the road from Syx's. The model Stephanie (sp?) was lit by a single light with a grid on it that we could move around. Jeremy has a white roll up background that is very flexible if you like white.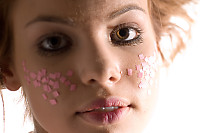 Near the end of the day, Syx started to play with more than one model in the setup.



Posing one model is hard (at least for me). Getting two models to pose together was very miss and miss. Neither of these are particularly strong, but I wanted a reminder that we did get the opportunity to at least try.



Overall - a lot of fun. The stylists, hair and makeup and models were all fantastic.

---
Tags: fashion(12), shallow depth of field(4)
From: John Harvey Photo > Shoot 2

Last Modified Tuesday, June 9th, 2009 at 01:06:21 Edit
Copyright and Contact Information.