Shoot 3

Hey, How about using that large ball of burning gas as a light?

---
I have to admit, I was little worried about this shoot. We shot outside in Vancouver on a day with a 40% chance of rain, using electric lights. We were shooting downtown. The time it took to get the models ready meant we only had a few hours to shoot before we had close up.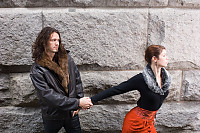 We started at the Park at the corner of Cordova and Bute. There is a public art piece here of a church that has been put in upside down - kind of mid spin through a tornado. We explored the park a little and walked back to our home base at Howe and Cordova.



After a clothing change, we explored the underground parking lot. They day, while short, was way more fun that I was expecting. We had a small, tight group that reliably executed ideas. The models (Kat and Kata as well as Ola) again performed beyond our expectations. It was a good day.

---
Tags: fashion(5), alley(1)
From: John Harvey Photo > Shoot 3

Last Modified Saturday, January 21st, 2023 at 23:42:51 Edit
Copyright and Contact Information.