Hatley Castle

Victoria's little castle

---
Every city needs a castle. Hatley Castle, the center of what used to be Royal Roads Military College, was built in 1908. James Dunsmuir (a name that shows up all over British Columbia) commissioned the castle, using local materials (stone from Saturna Island.) James lived in the castle until he died in 1920, and his family stayed on until 1937. In 1940 is was purchased for Military use, and educated members of the military until 1995. In 1995 the facility was turned over to a private education company, and has been open to the public since then.
It's impressive to see a castle, but the grounds around the castle are no less impressive. The Italian gardens, closest to the castle have wonderful details - stone statues, stone walk ways, and stone arch ways. The features are well maintained (the daffodils were just past their prime when we came), but there isn't much variety at this time of the year.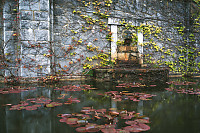 Further down the hill is large Japanese garden. Maintenance is starting to suffer (skunk cabbage was pushing up next to the creek), but there is much more variety. Still to early in the season for the rose garden and the ponds need a good cleaning, but the paths and blossoming trees were again a treat. Rhododenrums were just starting to come up and in another few weeks there will be walls of color around the pond.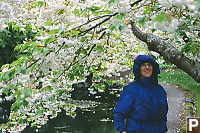 Considering the price of admission and how quite it was, Hatley castle was a real treat to visit.


---
Tags: garden(7), statue(2), fountain(1), bench(1), castle(1), tree(1)
People: Janet(1)
From: John Harvey Photo > Hatley Castle

Last Modified Tuesday, June 9th, 2009 at 00:49:23 Edit
Copyright and Contact Information.