Hiroshima

The Atom Bomb Museum

---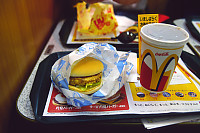 We arrived in Hiroshima by Shinkansen just before lunch and checked into our hotel. Our goal for day was the explore the Atom Bomb Museum so we didn't want to spend a lot of time at lunch. The McDonalds in the train station looked promising - it has the "Lighter Choices" menu we saw in Canada and has a number of items unique to Japan, including my Tofu burger. Also available was a pork burger and a chicken burger (beef burgers were in the minority. After lunch, we caught the tram and rode over to the memorial part of the city.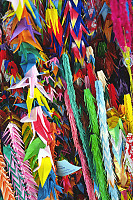 When we got off the tram, the first thing we noticed was the A-bomb Dome - the wreckage of the Industrial Promotion Hall that was very near to ground zero. This one building is all (that we saw) that remains of the damage from the blast - The area is now mostly museum and grounds or well developed city.

Various memorials are found from the bus stop to the museum - the Memorial for Children, the Memorial for Korean Victims and others. These memorials have paper cranes symbolizing peace on or near them.

The Museum itself is somber, but gives a well balanced presentation in both English and Japanese. Events leading up to the war and the bombing are presented and Hiroshima's role in those events is detailed. The Masacre at Nanking is mentioned. Several parts of the museum struck home for me - one was the copies of letters sent by the Mayor of Hiroshima to heads of state whenever nuclear test are performed. Walls are covered with small copies of these letters and unfortunatly, the letters keep coming - the latest letters to the United States were sent just months before we arrived.



After leaving the museum we had a discussion about the nature of war, weather the US should have dropped the bomb(s) and the continuing role of nuclear arms. I'm glad we visited.


We spent the evening wandering the tech district, and had Okinomiyaki for dinner. We decided to walk back to our hotel (near the train station) and walked few through a red light district - always a fun.
---
Tags: Japan(5), Museum(3), building(1), memorial(1), derelict(1), lunch(1)
From: John Harvey Photo > Trips out of the Country > A Second Trip to Japan > Hiroshima


Thank you for assembling this and then making it available to me. What you've put together, while simple, is also unique and substantial. Thank you again, walter

walter
Tuesday, January 15th, 2008 at 11:58:29


Last Modified Saturday, January 21st, 2023 at 23:40:42 Edit
Copyright and Contact Information.