Nikko Falls

Kegon Falls and Fall Colours

---
Nikko really has two attractions - first is the world class temples and shrines but a close second is Kegon Falls in fall. For about two weeks every fall the mountain sides burst into bright fall colours.



We wanted to come up to the falls on Sunday, but apparently there was a three hour traffic jam coming up. We woke up early and caught the 7am ish bus up and we were nearly alone. With all the trees changing color, I can understand why the traffic was so badly tied up the day before. We arrived at the falls just after they opened and had the observation platform practically to ourselves.


After the falls, we decided to walk over to the lake (it was just down the street). The lake is large and the wind was blowing hard over it - it was cold! We walked back to the bus stop and took the ride back down (very exciting - the driver maneuvered the bus around the steep corners just inches from the guard rails. I've finally "Done Nikko".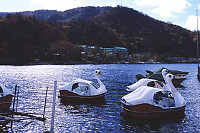 ---
Tags: Japan(7), forest(3), fall colour(3), waterfall(3), mountain(1), rainbow(1)
People: David(1)
From: John Harvey Photo > Trips out of the Country > A Second Trip to Japan > Nikko Falls

Last Modified Tuesday, June 9th, 2009 at 00:43:03 Edit
Copyright and Contact Information.