Being far off tourist season, we were alone even though all the stores had staff. We stopped for hot coffee - yet another Japanese innovation that hasn't (yet) made it to North America. Vending machines will sell you a can of hot coffee. In cold weather, that coffee is a great hand warmer and once it's about the right temperature, a nice drink. Why aren't they in Canada yet!

Takaragawa Onsen
Takaragawa Onsen is one of my ideal Onsens. It's in the mountains (no 7-11 next door), it's outdoor, it's mostly mixed (there is a women's bath) and the baths have history. Women generally join men wrapped in towels so things remain decent. You are next to the river and large banks of snow so you can really feel rustic.



The hotels here aren't well rated so we decided to make this a day trip. Taking photos of people in Onsens is kind of a tricky thing. First thing to realized - the Japanese are camera buffs at least as much as North Americans and there are plenty of camera happy locals. If you arrive in the morning on a weekday you may find yourself alone in the baths. Generally it's fine to take pictures. If you are not alone, don't take pictures.


After about a two hour soak. we were cooked so we headed to our next hotel.


Chojukan, Hoshi Onsen
Big trip splurge number one. Chojukan is an old Onsen - more than 100 years old - and while it has expanded several times (and has a better access road) it still has much of it's old world charm.


Mark commented the food seemed like they went to a really good fish market and just bough the most expensive of everything. That's pretty cool except we are high up in the mountains and ocean fish isn't exactly local. We did get some freshwater fish, but the ocean food was a principal component. I was particularly impressed with the baby zucchini in the tempura - we sometimes see baby sized veggies in our markets in Canada, but they are rare.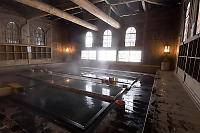 Beyond excellent food, the Ryokan is really known for it's baths. There are now three baths and by most standards they are award winning. The main bath is dived into a number of cells and you wash off just outside of the bath area. There are no taps, shower heads or modern shampoos. Of course for people look for a bit more modern convenience, there is another modern style bath (with the expected fixtures). Finally, there is also a womens bath. The main bath is mixed genders most of the day but it is women only from 8pm to 10pm.

We stayed at Chojukan for two nights and used it as our base of operations. The plan for the day between the two nights was to do a guided snowshoeing trip in the mountains. Amazingly we got rained out. The tour company didn't have a rain cancellation policy because in all of their years of operating, they had never seen rain in February. It was an unseasonably warm year. Not to be stopped, we decided to visit another hot springs town!

Kusatsu Onsen
Kusatsu Onsen is a strange town in Japan - one of the few towns without a train station anywhere nearby. We drove about an hour and half to get here, the last half an hour up to the top of a mountain. Kusatsu Onsen is definitly an Onsen town - the middle of town is dominated by a natural hot spring feature spilling hot water onto the rocks.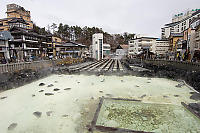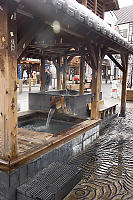 There are a few private (indoor) hot spring baths here and lots of small shops for tourists to lighten their wallets. On the side of the hot spring grounds is a hand and foot spa. Hot water first pours into an upper pool (hand bath) and then a lower pool (foot bath). Given that it is pretty cold up here, it was nice to get a bit of a soak in before the rest of touring.



The town has a hot springs park in the middle with a large public outdoor bath in a park setting. This is a large bath (easily a hundred bathers are supported) and sitting in the hot water with the cold wind on your face and the sun lower over the trees, you really get a good relaxing soak. Watching the steam rise over the hot water, I really wanted a camera, but of course that isn't appropriate for such a bath. Funny enough, the outside walls of the bath aren't quite high enough so while you sit in the bath, you watch tourists explore the paths on the neighboring hill. After my soak I went out a took a picture in.



Kusatsu Onsen was along our route into
Nagano
Prefecture - our next destination.