Levette Lake

A Great Place for Sunsets and Camp Fires

---
Andrea's Friends try to visit Levette Lake every year. This year, due to some mix ups, they didn't get organized in time, and the trip collapsed. Andrea, Mark and I wanted to go we went on our own. Levette Lake is just past Squamish in the Brackendale area. The road up is getting pretty rutted so I was glad I was driving my forester.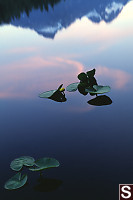 We arrived just before sunset and hiked our gear in the 500meters to a nice camp site. The sun sets behind Tantalus Range so there there is a long period of beautiful light, but little orange light on the ground.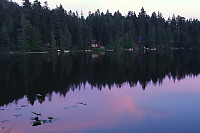 This being car camping (roughly) we had no problems bringing in firewood and a cooler full of ice. We made a camp fire and roasted marshmallows.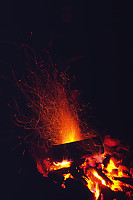 I've always been a sucker for camp fire photos. The wood we bought did spark a little, but the long exposures makes the sparks and flame look that much larger.


The next morning we went for a hike around the lake to a view point at an old fire spotting cabin. The Squamish River has cut a large valley between the Tantalus range and the plateau that Levette Lake is on. That large separation of space allows the mountains to experience different weather than what we had at the camp site.



After our hike we went for a swim in the lake (it's nice and warm, and there is a large rock our in the lake near the road access that you can sit on.



Levette Lake was a great weekend getaway. Getting there early helps, and please be nice to the environment, this place sees many visits every year.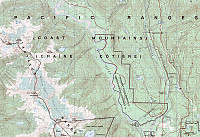 ---
Tags: lake(6), mountain(5), fire(4), reflection(3), sunset(3), long exposure(2)
People: Mark(2), Andrea(1)
From: John Harvey Photo > John Harvey Photo - Camping > Levette Lake
From: John Harvey Photo > Levette Lake


H John: Thanks for posting your photos and descriptions. My school friend from long ago had a family cabin there in the 1960s but I haven't been back since those days. My son and I stayed at Alice Lake this last weekend but the weather was showery so we didn't venture over to Levette Lake as we had originally intended. Best saved for a clear day according to your photos. I like your campfire photos, especially the sparks. I'll have to bring the tripod with me next trip and give that a try. Next clear weekend we'll take a run up there and enjoy the scenery. Cheers, Michael

Michael
Monday, September 13th, 2010 at 11:09:49


Last Modified Tuesday, June 9th, 2009 at 00:46:16 Edit
Copyright and Contact Information.