January 2018
Cold, Wet, Dark Days - With some Fun Thrown in!

---
Vancouver Aquarium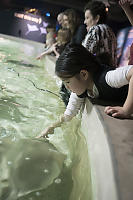 We have been taking a break from the Vancouver Aquarium. For locals, the best deal is to get a seasons pass and then go as much as you can. Once you are sick of it, you take a year off. That said, it's been a hard year for the Vancouver Aquarium - they lost two Belugas and their False Killer Whale Chester. I was a little worried taking the kids back because they spent so much time seeing Chester, but they seemed to be okay with Chester no longer being there.


The kids definitely have their favorites - after realizing the large whales aren't there any more (and it was too cold for the penguins to come out) they went down to see the rays. The kids had some good interactions. After that we went upstairs and found facepaint with a short line so both kids got things on their faces.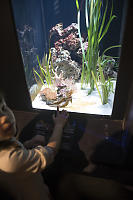 A little different from normal - the kids focused on some of the smaller tanks. Claira for some reason really wanted to see sea horses so when we found the tank, she spent some time following it. In the large hall, they had a tank showing local eel grass. They had a great volunteer there that added stories to the lives of the animals in the tank. I was quite impressed with the Pacific Spiny Lumpsucker (there is a lumpsucker in one of the kids books) because it is so funny to watch swim around.


One of Claira's favorites is the bat exhibit. For me, it's a fun photography challenge. I have a new camera and it really does an amazing job with so little light.
Bike Ride
The weather report may say "rain all weekend", but sometimes you get gaps without rain. On a not dry weekend we got a gap and went out for a ride. I had the trail gator so I could tow Claira, but she enjoyed riding on her own in parks and other safer spaces.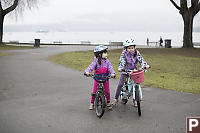 It was raining by the time we got home. The kids made banana bread.
Boat Show!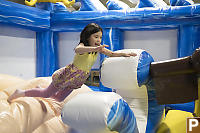 The boat show is a great January activity for us. It's mostly inside (out of the rain) and is very kid friendly. We try to be there when the doors open and we go to the Kids Zone to do the kids activities. This year, between the bouncy castle and the paddle boats, the kids played for an hour and half. It's pretty guilt free too - they bouncy castle was almost empty most of the time and the boats never had a line up.
Both Nara and Claira are pretty adapt at the paddle boats now. They tried to organize a race, but the other kids (who are newbies) kept floating off course.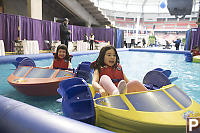 Last year we toured about 3 boats and then the kids got bored. This year, we toured for more than an hour. The kids discovered that many boats have interesting spaces (cupboards, bathrooms, half height bedrooms) and exploring can be a lot of fun. Claira wanted to sit in every captain's seat.


The half height bedrooms were a big hit with the kids. They aren't big so a less than full length bed is lots of fun.


Last but not least, we discovered the small scale boats. Both girls really liked the catamaran because it reminded them of Moana and the sales guy was fine with them playing on it. The kids now want to take sailing class.
---
Tags: Vancouver Boat Show(13), Vancouver Aquarium(9), paddle boat(3), play gym(3), bouncy(3), face paint(2)
People: Claira(9), Nara(7)
From: John Harvey Photo > Blogs for 2020 to 2005 > January 2018

Last Modified Tuesday, January 23rd, 2018 at 22:23:54 Edit
Copyright and Contact Information.