January 2022
And some clever quip...
---
Upper Mountain Path, West Vancouver
In November I heard about this trestle bridge in West Vancouver that had just opened. This is on the road up to Cypress which is seeing quite a bit of development. We decided to check it out. Sunday afternoon is of course the worst time to visit these kinds of attractions, so we had to park a ways down the road and walk up.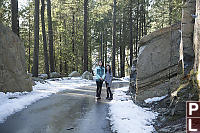 The trail itself is wide and flat - easily wheelchair accessible. The rock has been neatly cut and anchored so it won't fall down after a freeze thaw cycle. We found a small side trail that lead up to the housing development that is in construction. Eventually all of this land will be covered in matching expensive homes like the other side of the road up to Cypress.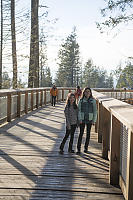 We return to the trail and walked out onto the trestle. The trestle is brand new - no graffiti, no locks attached, no names carved in and nothing broken. The views are great, but even here you are reminded that there will soon be more houses here too.

It's Fog Season in Vancouver. We usually get a week or two of fog as the weather goes from cold to wet and back. A Sunday night just happened to be the right combination so I took a sequence from Granville Island. The moon was supposed to rise in this shot (not that I was setup for that), but the fog and the clouds above removed any chance of seeing it.



Coopers Hawk in Stanley Park
I quite like the walk around beaver lake in Stanley Park. On the far side of the lake there is a small bridge where people feed the birds and squirrels and indirectly the predators. I've seen hawks in the trees here before and his morning there was a Coopers Hawk. I took a brief video:


Yew Lake in Snow
COVID (the Omicron wave peaked a few weeks ago and I got my third shot - the kids are still on first) has closed a lot of the usual seasonal attractions - the boat show isn't happening this year and the Chinese New Years parade is again canceled. The weather on weekends is far from reliable, but when it's raining in the city, it's often snowing in the mountains. I decided to take the kids up to go snow shoeing at Cypress Provincial Park! As expected, we had to park a good distance away from the trail head, but the walk wasn't too bad.

They have nice signage to get you to the trail head and the trail itself is well marked.



The straps on my 20 year old snowshoes immediately failed (I should have checked before we left), but the snow was packed down well enough that my big boots kept me on top of the snow. The kids would probably have been okay without snowshoes as well, but that doesn't make it much of a sport.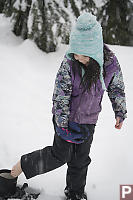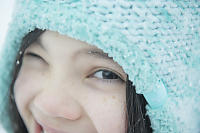 The air was just above freezing so the snow was quite wet when it fell. Nara and Claira really enjoyed knocking the snow off branches, but I don't think either was really able to drench the other in snow.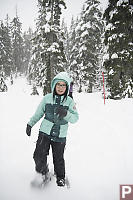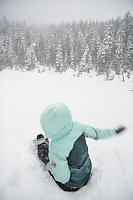 I'm pretty sure we actually made it to Yew lake. We were getting pretty wet by this point so we turned around and headed back to the car.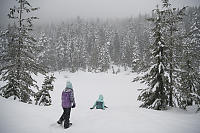 We were back in the car by noon and came home for lunch. What a great start to a day!

---
Tags: snowshoeing(5), Vancouver(2), bridge(2), trail(2), Cypress Provincial Park(2), time lapse(1)
People: Claira(6), Nara(5), Helen(1)

Last Modified Monday, February 21st, 2022 at 10:42:49 Edit
Copyright and Contact Information.