February 2006
Enlightened things are shiney

---
Budhist Temple in Richmond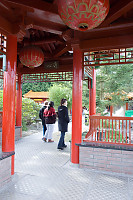 The Budhist temple in Richmond has a restaurant (under the main temple area) that is Vegetarian and quite good. Jin just got back from another trip to Europe and wanted to eat somewhere good - Helen and I were happy to join.


I've been to lots of Temples in Asia so this one didn't particularly stand out, but I could imagine with the right light you could do quite a bit with this location.
Gary Point Park
Gary Point park is a little bit of scrubby land at the South West extreme of Richmond. One of the major waterways up the Fraser drains here and Steveston is a short walk away. It turns out is's a good place to see the most habituated of the bird species that live in Vancouver.

---
Tags: bird(5), temple(3), field(1), flower(1), incense(1)
From: John Harvey Photo > Blogs for 2020 to 2005 > February 2006

Last Modified Saturday, August 8th, 2009 at 22:16:41 Edit
Copyright and Contact Information.