February 2021
And some clever quip...
---
Sunrise right now is roughly when we are getting the kids ready for school so we can sometimes see the sunrise light fall on the city. I decided to get up early and watch the sunrise from the bridge.


A bridge isn't always a perfect vantage point. When big buses went over the strain release joints it would send a shock through the bridge deck a small shake. While still dark, the car lights tend to cause flair in the lens. I also made some mistakes - I didn't adjust the shutter speed fast enough and wound up over exposing some of the frames. Most of these issues can be fixed in post.


The kids didn't really want to go outside (it was raining a bit) but when a bakery is on offer, their attitude warmed up. We got on our bikes (first time since last summer) and biked over to the Olympic village to get a few treats. The kids did really well and the rain let off quickly.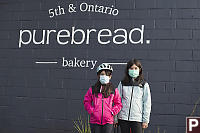 The day turned out quite nice so we drove over Iona Beach for a brief walk. It's still cold and windy, but you can see some birds are starting to come back. In a few more months this will be a busy place!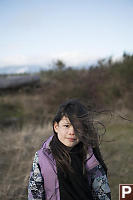 Whyte Island
Back in
December 2020, I took the kids to Whyte Cliff Park
. At the time we saw Whyte Island with it's rocky land bridge but the tide was high and we couldn't safely cross over. I've been watching the tide tables and most low low tides in January were at night. It just so happened that we got a low tide late on a Sunday afternoon so we packed up and went for an afternoon hike.

The land bridge is high above the waterline and I checked to ensure the tide was going to continue to recede even hours after we left. The kids of course still needed to walk as high up on the rocks as possible. Being covered by ocean much of the day, the beach level route was slippery but safer than jumping stone to stone.



Whyte Island is considerable larger than it appears when you look at it end on. The Island is probably three times as long as it is wide and where you start you can't see the Island's length. We walked up the cliff face and found the top of the island to get a view.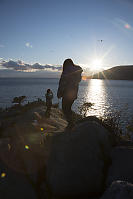 From the top of the Island there is a nice view out into the straight of Georgia. On the left is the UBC Endowment Lands, the Island in the middle is Passage Island the nearest land on the right is Bowen Island.



Of course the kids had to go the near the end of the Island. There is a big shore pine tree out there which owns the soil in small flat space.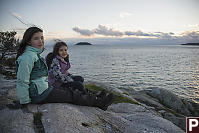 The down side of late afternoon hiking is that sunset does put you on a clock. As the sun set on the horizon the fancy homes in West Vancouver started to glow as they reflected the setting sun.


The kids had a great time. I was a little anxious over all of the opportunities to fall down. We did just fine.
Happy Chinese New Years!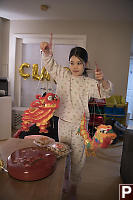 Normal Chinese New Years for us is going to an overloaded Chinese restaurant with family and having a bunch of a typical and special dishes. With COVID we had to make due - Helen was able to get take out from a restaurant and added a few of her own dishes and we made it a special event.


Snowshoeing at Cypress Mountain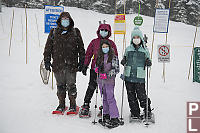 COVID problem 1 - stay away from other people. You can go outside, but long line ups at ski hills is not a good plan. COVID problem 2 - imports of a lot of things like sports equipment has been hit hard. MEC (which recently went from a co-op to American ownership) has very little in stock. I figured snowshoeing would be fun, but I didn't want a lineup for snowshoe rentals and I couldn't find them in stock in any store. Solution - Craigslist! It took about a week but I found used sets for everyone!
Helen and I went snowshoeing in December 2005
at Cypress and my snowshoes have been in storage tote ever since. The kids have never been. We got up to Cypress at 10am and got overflow parking on main road. We walked up, found a bench, Helen turned the online purchased tickets into tags and we were good to go. The kids learned very quickly and liked that you could go up or down as you pleased.

We hiked about an hour to get to the Hollyburn Lodge, but that was mostly because of some complaining. We had our packed snacks and then started to head back.


The hike back was more downhill and it went fast - probably 30 minutes. Because it was downhill and fast, the kids were in a better mood which made it faster still.
The kids seemed to enjoy themselves and we now own snowshoes so we might try this again!
---
Tags: Cypress Mountain(5), snowshoeing(5), Chinese New Year(2), Whytecliff Park(2), sign(1), puppet(1)
People: Claira(17), Nara(14), Helen(7), John(1)

Last Modified Monday, April 26th, 2021 at 21:16:15 Edit
Copyright and Contact Information.