March 2011
Some Birthdays, Some outside

---
VanDusen Gardens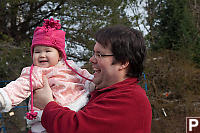 We had a seasons pass for the VanDusen from before Nara was born, but we really hadn't made good use of it. The pass was going to expire in the next few months so decided to make a trip there for a walk around in Nara's Chinese jacket. Spring was starting to peek out but we had to look to find bunches of flowers.

Dr. Sun Yat Sen Gardens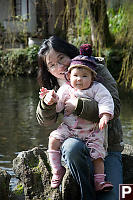 We were married in the private garden next to the Dr. Sun Yat Sen Gardens so this park has always been a favorite for me. It makes a nice end to a walk around chinatown, or a good place to munch take away from NewTown Bakery.

Marcus's Birthday
Marcus is now Two! Diana threw a big birthday party at her house with lots of friends. Marcus had a train painting session (Nara's cars have no paint because she would have just eaten it) and a nice ice cream cake.

We got another chance to say hi to James. James is still a baby, but he already has lots of personality.


---
Tags: painting(2), toy(2), birthday cake(1), Dr. Sun Yat-Sen Classical Chinese Garden(1), upside down(1)
People: Nara(11), Marcus(3), James(2), John(2), Helen(2)
From: John Harvey Photo > Blogs for 2020 to 2005 > March 2011

Last Modified Wednesday, August 31st, 2011 at 21:18:37 Edit
Copyright and Contact Information.