April 2010
She is big as a ...

---
Helen was fast approaching her due date and we knew our life was going to change. My sister (and Jeff) brought over Marcus and we decided to go to Van Dusen for a little walk around.

Marcus is of couse cute as a button and enjoys walks. Not long walks - a few steps and then a stop to investigate. A few more steps and a bit more investigating.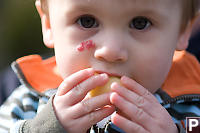 While Marcus limited our pace, the pregnant lady limited our range. We found a nice bench for a sit and explore.


---
Tags: VanDusen(1), flower(1)
People: Marcus(9), Helen(5)
From: John Harvey Photo > Blogs for 2020 to 2005 > April 2010

Last Modified Tuesday, September 28th, 2010 at 20:19:29 Edit
Copyright and Contact Information.