April 2014
Love the longer days

---
Gulf of Georgia Cannery
We had arranged a "play date" on Sunday afternoon but it turned out to be pouring rain. Steveson is about half way between my sisters house and ours so we decided to visit the Gulf of Georgia Cannery for the afternoon.


I was a little concerned that the museum wouldn't but child safe. Turns out I was quite wrong - many of the exhibits have activities at very low heights and lots of displays where kids can interact. I was quite impressed by the mixing of kids and industrial equipment, but they never found a sharp corner or snagged a jacket. There was a "kids activity area" that had a large scale child friendly fishing boat model that you could outfit with the different kinds of fishing rig we see on the coast. Even I wanted to play with that toy.


Thanks for meeting us half way!

Easter on Vancouver Island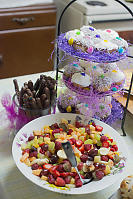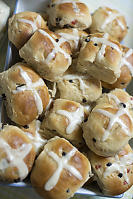 My Aunt generously offered to host an Easter event at her farm. Just having the crowd over would be an accomplishment, but she also cooked (with some dishes brought) brunch and dinner! My mother really likes hot cross buns so she pulled me over to make sure I got a photo of the treats.

We don't have a dog so it's always uncertain how our kids will act around a dog. Smudge is easily twice Claira's size so Claira was understandably a little hesitant to come over and pet. With enough coaxing (and Kayla holding Smudge to prevent an errant lick) both Claira and Nara got to give Smudge some affection.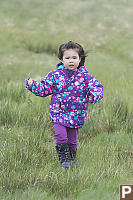 After brunch Claira went for a nap and Nara and I went for a walk. It was a bit of windy and rainy day but not so bad we couldn't walk down to the tree line. It's still early spring but the Trillium was in full flower and other shrubs were blooming. We spent some time looking for frogs but mid day doesn't really seem to be the time to find them. Lots of deer prints to see though!



After Claira's nap, we went to visit the chickens. The farm usually has both laying and roasting birds but the laying birds are the only birds they keep over the winter.



The day after we went to my grandparents house for lunch.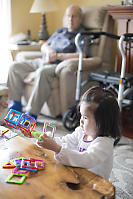 My mom brought an introductory set of magformers for the kids to play with. These plastic squares and triangles have magnets in them that allow you to snap edges together. Nara could quickly build structures and just as quickly reduce them to pile of components. Claira didn't have as much luck - she could pull them apart but couldn't make things.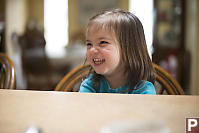 Nara's 4th Birthday
Nara's first birthday was at the airport waiting for a flight to Hong Kong. Her second birthday we were in Seattle. Last year we had a
house party
. Nara is now four so she is starting to have opinions about what she wants in her party. We again had a house party and invited friends and family. She likes hotdogs (and they scale well) and she asked for the type of cake.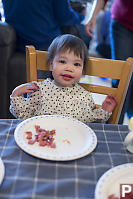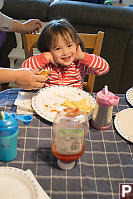 We would up with three kinds of hot dogs - chicken, beef and veggie so there was something for everyone. We don't have seating for 20 so a lot of people wound up eating sitting on the couch or floor - no one seemed to mind.
We have no shortage of toys in our house, but we decided to have a planned activity as well. Helen purchased plain cookies and lots of decorating supplies - sprinkles, coloured icing pens and chocolate. The kids could take some time to decorate a cookie (or three) and bring them home after the party. We should have seen it coming, but not all cookies were saved to be "take home items" - a number of ingredients were "sampled" to ensure quality before usage. The kids had fun though.

Nara wanted a blueberry cake. Helen put on her bakers hat and made up a pair of blueberry cake sheet cakes. We whipped two liters of whip creme. Pro Tip: Don't try to whip two liters in yours mixer in one batch - it splatters everywhere. The cakes were covered and put in the fridge overnight and then dressed up and stacked just before the party. We were worries there wasn't going to be enough cake, but it turns we had about 200% of the cake we needed - kids just don't eat that much.

Claira (who is now 22 months old) doesn't normally like sweet stuff - her favorites are salty and savory. As a baby, she wouldn't eat peaches or yam baby food - generally a favorite food for babies. She normally won't eat pancakes or other sweets. Turns out, she really likes cake.


The original plan was two hours - 11 until 1. It was 2 by the time people started heading home (Claira needs a nap so we try to make sure it's quiet for her). Thanks everyone for coming!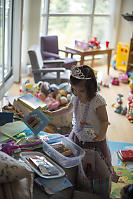 We try hard to not make it about the gifts, but we do exchange gifts with family. After the party (the house was covered in toys) Nara took some time to open (and try on) some gifts from my sisters family. Nara likes art projects so these supplies will be put to good use.
---
Tags: birthday cake(4), decorating(3), candlelight(2), bird(1), triptych(1)
People: Nara(11), Claira(8), James(6), Marcus(6), Noelle(3), Abby(3)
From: John Harvey Photo > Blogs for 2020 to 2005 > April 2014

Last Modified Sunday, May 4th, 2014 at 21:14:46 Edit
Copyright and Contact Information.