April 2022

It's nice to get out of town

---
Ports are great for timelapses because there is lots going on which leads people to watch the video again and again to get all of the details. As Spring goes into summer, sunset is at a reasonable time so I picked a spot at the end of Canada Place and shot east toward the Vancouver Centerm Terminal. You can see the sunset falling on the mountains, the sea bus going back and forth to the North Shore and the terminal stopping operations around 8pm.


Weekend in Victoria
Horth Hill is one of my favorite parks for spring flowers in Victoria. It's a short walk (good with the kids) and it really highlights how flowers grow in micro-zones - just the right combination of light and exposure. The last time I
walked the trails at Horth Hill was back in April 2017
when it was just me and the kids. I asked Claira how long of a hike she wanted and she said short so we picked the viewpoint trail - maybe 2km and the same trail I did last time.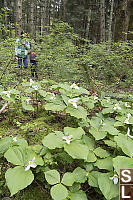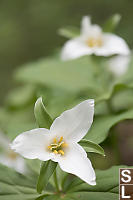 Right when you star there are some patches of trillium. These are slow growing plants - it can be years between the seed starting the first flower. I was surprised to see so many plant growing together here - they are easily trampled and in Vancouver they are considered a theft target.
As you get a little higher on the hill you spot patches of White Fawn Lilies. These short plants are one of my favorites, but they do require getting down on your hands and knees to really appreciate the flowers.

As you walk a little more up the hill, the trees thin out and small meadows reveal more flowers! I have a soft spot for the shooting stars, but I also really enjoy the monkey flowers. Again, you need to get close to really appreciate them.


The one down side of a short hike is that it is over quickly. Maybe next time Claira will want to spend more time exploring and we can see more of the hill!


Botanical Beach
It's not a short drive, but the weather was good and the tide was low around 9am so Helen, my Dad and I decided to drive out to see Botanical Beach. The last time we were out here Nara was just a baby but she didn't want to make trip a second time.
There is the actual shore where you can sometimes spot things in the rocks. As the tide was already rising when we arrived, I decided to go there first to see if anything interesting was out of the water. Normally this a good place to see sea stars, but no such luck on this trip. There were lots of Chitons though.



A little further south are the giant pools that Botanical beach is famous for. These huge windows into the ocean hold enough water that the inhabitants aren't stressed out with every tide change and we see a window into the deeper water.



Shooting deep into the pools is hard because of the surface reflections and glare.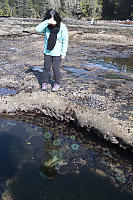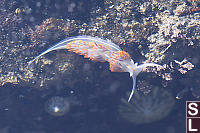 About two years I saw someone had a short video of duck. The duck wasn't doing anything special and it wasn't particularly rare species (I think it was a Harlequin Duck), but it did strike me how alive the animal looked just before it was in video. Taking video of wildlife turns out to be much harder than I thought - tricks you can use for photography like VR lenses don't work nearly as well with video. Similarly, it's not enough that your camera is stable, the object the thing is on also needs to be stable. I've learned a lot more about post processing, but I'm just scratching the surface of the skills needed to take video.



We had to hurry back because we had two kids waiting to go on their Easter Egg Hunt!




We probably should have hurried more because the crows got into some of the packages. We figured out it was the crows because the crows kept coming back to the same spot the day after day looking for a refill.


Project at Grandpa's house
Nara has an Ikea shelving/drawer unit in here room that has very deep shelves - maybe 45cm deep. What normally happens is that books get jammed at the back and we can't find them later. We decided to make boxes so that Nara can put soft (and hopefully light) things in and take them out as needed. We went to Home Depot and bought a sheet of thing plywood which we had ripped into four strips. Using my Dad's tools (chop saw and a router table) we made the sides and bottoms of the boxes and then glued them together in a jig. The kids helped paint.



We got the boxes home and they do help make better use of the space. Materials was about $60 dollars and it was time well spent.


At the Swartz bay ferry terminal there are often cormorants on the structures around the ferries. Sometimes they are close to the ferries, sometimes they are far away. Today, I noticed some birds when we drove on and once the car was secure I got out my big lens to see if any had stuck around.




There are three species around Vancouver - The Double Crested and Pelagic Cormorants. There is a third species - Brandt's that does occur in the lower mainland and gulf Islands, but I didn't see any of them today.


---
Tags: Botanical Beach(5), tide pool(3), woodworking(3), time lapse(1), sunset(1), crane(1)
People: Claira(5), Nara(5), Helen(1), Janet(1)
From: John Harvey Photo > Blogs for 2023 to 2005 > April 2022

Last Modified Saturday, January 28th, 2023 at 20:58:15 Edit
Copyright and Contact Information.