May 2012
A Short Trip to Trout Lake
---
Trout Lake is a bit funny. When you think of urban lakes, you often think swimming. Trout lake has so many ducks pooping in it that it often closed to swimming. It has a "dog beach" on one end where the dogs like to run into the lake and most of the shoreline is actually marsh.


On the plus side, this makes it a great place to see Iris's bloom in the spring. There are a few weeks when they are on and large parts of shoreline have yellow flowers.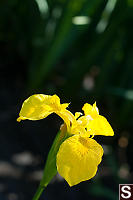 These irises don't last long so it's luck of the draw if you get to see them. We got lucky.

Trout lake is actually quite an anchor for East Vancouver. The Trout Lake Farmers Market is a huge draw every weekend and I'm a particular fan of
The Trout Lake Lantern Festival
. Pretty good work for a little lake.
---
Tags: Trout Lake(6), invasive(4), flowers(2), flower(1), playground(1)
People: Nara(1)
From: John Harvey Photo > Blogs for 2020 to 2005 > May 2012

Last Modified Thursday, June 28th, 2012 at 22:22:03 Edit
Copyright and Contact Information.