June 2008
A nice little paddle in the creek.

---
Kayaking in False Creek
We have a
kayak camping trip
coming up and David wisely wanted to get some practice in before we committed ourselves to a long trip well beyond our skills or endurance. There is a Kayak rental place down on Granville Island and we managed to get four people together to go for a bit of paddle.

We headed up the inlet to the calmer waters on the other side of the Cambie Street bridge. The huge Millennium Water construction site (with it's crazy number of cranes) dominates the horizon.


The condos are a long ways from complete (but progressing at terrific rate, even by Vancouver standards) but some of the amenities such as the redeveloped oceanfront sea wall are almost complete. It's amazing to see so many condo's coming on stream all at the same time - I believe there must be terrific risk in creating an "instant" neighborhood.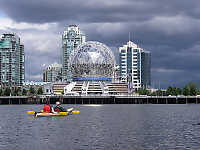 The Dragon Boat races are coming up soon so there were lots of boats out on the water getting practice in. Science world is kind of a hub for this kind of activity so we had to dodge a few boats as we went to farthest end of the inlet.

We only rented for two hours so we couldn't really hang out too long. We stopped in at Yaletown for a coffee (Why isn't there a starbucks on the dock yet?), and paddled back to Granville Island to return our boats.


---
Tags: kayaking(8), Vancouver(6), crane(4), Olympic Village(4), bridge(3), dock(1)
People: David(1), Mark(1), Jeremy(1)
From: John Harvey Photo > Blogs for 2020 to 2005 > June 2008

Last Modified Saturday, August 8th, 2009 at 22:18:50 Edit
Copyright and Contact Information.