June 2011
Playing the Parks

---
Playground Across the Street
Having a child changes your life. Obviously you get less sleep and your "spare time" is now dominated by parenting, but there are more subtle effects as well. A park you used to ignore you now causes you to take mental inventory as you walk by: baby swings - check; low slide - check; clean grounds - check! The park across the street from our house has a small playground and we now find ourselves out there pretty much every day.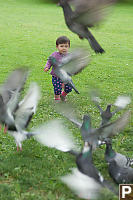 I was also quite surprised to find out that animals see children differently than adults. At Granville Island you can accidently step on a pigon if you aren't careful. Children don't have this problem - the birds seem quite aware of kids and where they are. A child twitches and the birds scatter. An adult gets up and the birds rush in looking for dropped food scraps.


Playing on the Swings (Pandora Park)
Picking a restaurant also changes. Of course you are interested in if they have a high chair (or my pet peve - restaurants with broken high chairs), but knowing if there is a park near by is also handy. We found a great Pasta place on Hastings, partly because Pandora Park was near by.


Water Park at Granville Island
Some parks are pretty much famous. The water park at Granville island is well known amoung children - listen to them talking at a different water park and they often compare parks. Nara doesn't have much experience with water parks so her first visit was a little cold and timid.


Petting Zoo at Queen's Park
A new one for me was visiting the Petting Zoo at Queen's Park. This "by donation" petting zoo is small but well maintained and the animals seem happy enough. Again, Nara was a bit confused about her role in all of this chaos, but she had a good time.


---
Tags: petting zoo(3)
People: Nara(15)
From: John Harvey Photo > Blogs for 2020 to 2005 > June 2011

Last Modified Tuesday, August 30th, 2011 at 21:44:39 Edit
Copyright and Contact Information.