July 2010
Visiting Family

---
Visiting Comox
My sister is a school teacher so after the school year finishes she gets to do the local travel thing. She organized a family weekend in Comox for the family to get together. My Grandparents (Nara's Great Grandparents) hadn't seen our latest addition so we were manditory attendance. Of course our first stop into town is the Grandparents house.


We discovered that Nara is quite good with new people! In fact, she seems to like to put on a show - more interactive with more smiles than we normally see.



My Aunt Jennifer graciously put on an afternoon garden party so that we had an excuse to get together and shoot the breeze. This was Nara's coming out party to a lot of people but Marcus was also new to a few people.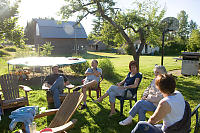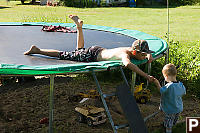 Being the first days of summer vacation, there was lots of energy by the older kids too.


Justin had just received a dirt bike so that got a demo. Consider it's built for kids - it sure does go fast! I wonder if Nara will get one she hits her teens?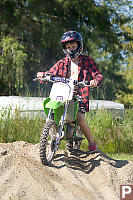 And the rest was family, family, family!


---
Tags: trampoline(2), multiple frame image(1), triptych(1)
People: Justin(6), Edna(5), Philip(5), Marcus(5), Nara(2), Kayla(2)
From: John Harvey Photo > Blogs for 2020 to 2005 > July 2010

Last Modified Sunday, September 19th, 2010 at 17:22:53 Edit
Copyright and Contact Information.