July 2011

Take Advantage of the Long Weekend

---
Sunday Afternoon at the Williams
We really did want to go over earlier, but the combination of us being sick, the Williams being sick, a trip to Hong Kong, moving and the them coming out and visiting us, it has been a long while since we went to White Rock for a visit. We finally got a chance to remedy the situation.

Having a back yard of your own can be pretty fantastic. In a public park you need to be aware of the people around you - is your daughter going to run in front of a bike or push over a smaller child. In your own backyard (or a borrowed family back yard) you have fewer of these concerns. Of course playing with someone elses toys is great too!



It's been quite a while since we have visited James. He has grown up a lot since I last saw him!


(Great)Grandparents Visit
Visiting people and staying overnight is quite a big ask - with a child, we have quite a bit of stuff (we are getting better) and we need to follow a schedual or the kid misses naps and everybody pays for it. My grandparents are getting on in years (roughly 90) so we were a bit worried about staying over.


Short answer - we shouldn't have been so worried. People adapt to having kids around and the joy of seeing a great grand child smooths over the minor inconviences.


My aunt Jenny was kind enough to organize a picnic so all of the family came to use for a visit. Nara did well with so many "kind of new" people.


Of course it's good to see everyone else as well. Seeing your extended family once a year at Christmas gets a little sad so it's worth the effort to get out.
There is lots to do in the Courtenay/Comox area. We decided to go for a walk on the breakwater because I remember a near by playground (Marina Park) was quite good. The boardwalk was good for a run around.

We also visited Kai Beach. We live fairly close to kits beach but we don't go very often. Kai beach was a little cool (we have had a cool summer) but still lots of fun to walk around a dig up shells.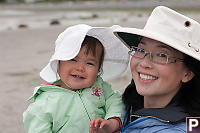 For younger children, having a set of keys will often attract their attention and help make a good photo. Nara now seems mostly past that. The new trick is the "I'm going to get you!" game. A parent can do that off camera and Nara will focus on the parent and what is going on around her. It worked out well.


---
Tags: Kye Beach(5), bucket(1), tool(1)
People: Nara(10), James(3), Helen(3), Marcus(1), Justin(1), Kayla(1)
From: John Harvey Photo > Blogs for 2023 to 2005 > July 2011

Last Modified Saturday, January 28th, 2023 at 23:16:52 Edit
Copyright and Contact Information.