August 2006

Fireworks and ...

---
Celibration of Light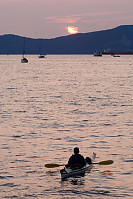 This year I only got the chance to see one set of fireworks. I've taken a
lot of photo of fireworks
so doing something new is hard, but I like a bit of a challenge. Last year I noticed some nice wide angle shots before the smoke built up that I didn't have the lens to capture so I started with wide angle shots.
I also wanted to try "macro" work - taking tight shots into the fireworks. Exposure on film is a pain but with digital you can tune pretty quickly.

After a while the smoke was too thick so I started doing traditional barge + top type shots. These are the classic shots that I made in the past.

And finally on the walk home, I noticed a thick congregation of boats coming up false creek after the fireworks were over. I got out the tripod and took some longer shots. Lots of fun!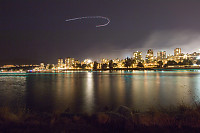 ---
Tags: fireworks(7), city(4), Vancouver(4), long exposure(2), sunset(1), kayaking(1)
From: John Harvey Photo > Blogs for 2022 to 2005 > August 2006

Last Modified Saturday, January 21st, 2023 at 23:43:47 Edit
Copyright and Contact Information.