October 2014
A Trip to Victoria

---
Grandma's house for Thanksgiving
We are planning a bit vacation to Asia leaving at the end of the month and the planning for that eclipsed all other short term planning. Only a few weeks before thanksgiving did my Mom ask if we had plans and we decided we should try to get out of town.


We made reservations for the 8pm ferry (Nara and Claira are often in bed by 8:30) and left home at 6:15 to try and hit our reservations honored window. When we got to the ferry terminal, we found out or 8pm ferry which normally boards at 7:45 wouldn't actually arrive until 8:45. The kids were fine (they seem to really enjoy being new places) but it does seem bizarre to see them awake at 10pm. We got my parents house by 11pm and amazingly the kids were still awake. The next morning they didn't even sleep in that late. They really enjoy going out on the deck and playing with the bikes - even if everything was recently doused in rain.
Swan Lake
A few months ago, Nara went to Swan lake to get a hands on course on snakes. It was the first time I actually made it inside the nature house (often closed on holidays) and I was impressed with the number of live animals they had on display. We made plans to walk around on Saturday when the house would be open.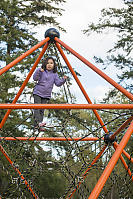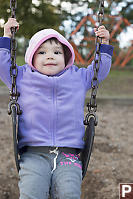 Beacon Hill Park
The petting zoo at Beacon Hill Park is open later in the year than some of the petting zoo's in Vancouver so it's nice to be able drop in for one last visit before the winter closure. Nara is now pretty comfortable with the goats and Claira is okay as long as the goat doesn't move.


The kids sometimes use the goat as role models - running around where they do. Other times they are content to brush the goats. They never really lost their fear of the goats - if a goat moved suddenly, our kids would get stressed out.


Life at Grandma's house is pretty easy. Lots of new toys, some fancy breakfasts and treats - what more could a kid ask for?


Outerbridge Park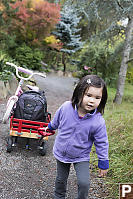 Outerbridge park is a short walk from my parents house and makes for a nice walk before the long wait at the ferry. Caitlin came over for waffle breakfast and after things were cleaned up we walked over (Nara rode her bike). Nara got a surprise when her bike started going faster and faster down hill - she is used to hand brakes and this bike is a coaster - pedal backwards to stop. Caitlin caught up to here and Nara put it into the grass to slow down - it all worked out.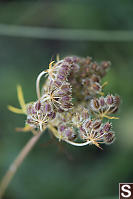 Late fall doesn't have a lot of flowers, but there is still lots to look at. A field of wild carrot has gone to seed with it's "nest" shaped heads full of macro detail. We saw mushrooms pushing up through recently disturbed soil. I think I even saw a dragonfly or two oblivious to the time of year.


Reifel Bird Sanctuary
I quiet enjoy a walk around the bird sanctuary - you never know what you will run into. I had the girls by myself for a day and given enough bird seed, they are basically self entertaining. Sadly, I can only carry so much bird seed.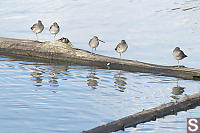 Terra Nova Adventure Play Environment
This summer Richmond built a great playground with equipment targeting older kids. Everything is larger - bigger slides, bigger swings and bigger climbing surfaces. It has two zip lines so there isn't much of a wait and ton of parking. Even better, once you are done playing, you can watch the planes taking off and landing at YVR and the small float planes often fly low near to the park. The kids love this place.
---
Tags: petting zoo(5), Outerbridge Park(4), Terra Nova Adventure Play Environment(4), Swan Lake(2), Beacon Hill Children's Farm(2), slide(2)
People: Nara(14), Claira(12), Helen(2), Janet(2), Caitlin(1), John(1)
From: John Harvey Photo > Blogs for 2020 to 2005 > October 2014

Last Modified Thursday, January 1st, 2015 at 15:54:11 Edit
Copyright and Contact Information.