November 2011
Trips around home.

---
Muddy Buddy
I sure wish we had Muddy Buddies when I was a kiddo - I remember lots of sweaty plastic outfits when I was a kid. I'm still trying to master focus while taking movies on my wifes D3100.

Granville Island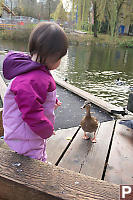 It was a rare sunny afternoon and Mom was having a nap so I took Nara down to Granville Island for a little walk around. She really likes the ducks at the pond even if they do frighten her a little. If you don't feed the ducks the scene is a little bit more sane.



The sun doesn't rise up very high at this time of the year which has the positive side effect of long orangy sunsets. We had afternoon snack on the picnic table while watching the boats.


Proud Parents
Nara is getting more clever by the day - she likes to spend more time playing on her own and she has more sophisticated play with the toys she used to simply hold. She makes us proud.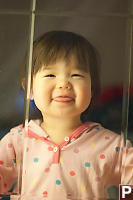 ---
People: Nara(9)
From: John Harvey Photo > Blogs for 2020 to 2005 > November 2011

Last Modified Sunday, December 4th, 2011 at 14:09:48 Edit
Copyright and Contact Information.