November 2012
And some clever quip...
---
One of my favorite events of of the whole year is the East Side Culture Crawl. It's hard to take photos when you are carrying a kid (next year I am bringing a camera!), but it's a really enjoyable day. This year my parents came over for a kid visit before we all went out for a walk.


Happy Birthday Helen!
Helen had been feeling under the weather for the days up until her birthday so we had a pretty low key day. Nara and I went out for a trip around the playground so Mom could get some sleep. That evening, Helen's family came over to share dinner and an ice cream cake. Everyone had a good time!

Deep Cove
Last summer we met the Williams family at Crescent beach and discovered the joy of throwing rocks in the ocean. We did the same thing in Victoria, and I've been looking for another good beach to do the same. Andrea is currently renting in Deep Cove (she soon leaves for Montreal) so we decided to come over for the morning to try out rocks on the beach.


There is a pretty large stream that empties into the cover so after Nara tired of throwing rocks we went to walk in the stream. The water is pretty thin so there isn't much issue with falling down. Kids walking in water did drive home the importance of having shoes at least as waterproof as the shoes your kid is wearing - otherwise you get wet feet when you go in after them!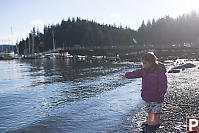 Nara wasn't moving very fast so I got to experiment with lighting. At this time of the year, the sun doesn't rise very high up so the lighting is usually at glancing angles. The most obvious choice is sun behind you (looking at the bright sides of the objects and kids have squinty eyes) or sun in the frame (taking photos of the shadow side of things. On film, the shadow side wasn't such a good idea - it was hard to get nice detail. I was impressed with what I got from digital - even with the lens flare and crazy contrast, you still get some nice exposures.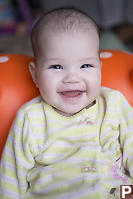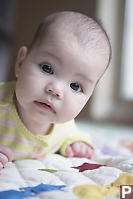 Helen's Aunt Jennie has been staying with us since Claira was born and is leaving soon. I was parenting and happened upon a happy time (fed, not tired, want to play) so I took some Photos. Claira has come a long way - she can almost roll over and almost sit up. She seems really keen on watching us eat and has good head control. I'm looking forward to even more developments!

---
Tags: Deep Cove(2), flare(2), birthday cake(1), throwing rocks(1), rim light(1)
People: Nara(9), Claira(6), Helen(1), Jennie(1), Theresa(1)
From: John Harvey Photo > Blogs for 2021 to 2005 > November 2012

Last Modified Thursday, December 13th, 2012 at 21:09:53 Edit
Copyright and Contact Information.