December 2011

More Christmas Traditions

---
Christmas at Grandma's House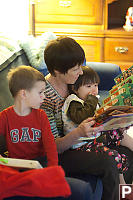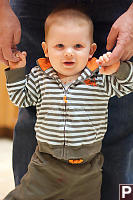 For many years my mother has had a pre-Christmas party where all of the family crashes her house and she works like a crazy woman to keep everyone happy. This year was larger than previous because of yet another grandchild added to the collection - James's first Christmas.
Butchart Gardens
If you arrive early enough on Friday, you get to go to Butchart gardens for some skating and a trip on the Carousel. Skating starts at the top of each hour - 45 minutes of ice time and then the ice is cleared and flooded for the next batch of skaters. Marcus and Dad have been practicing skating for a while so he looked pretty good out there on skates. Caitlin, Kayla and Justin are old hands at this. The Jeffries family were sadly MIA this year.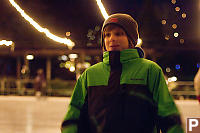 After skating, we take the shortest path available to get to the Carousel. The gardens are well lit with a 12 days of Christmas theme but young kids don't have much patience for walking about. The Carousel is an additional charge for each ride.


The lighting around the Carousel is actually a bit of a challenge. The carousel has a lid which leads to lots of shadows across peoples faces. The light isn't particularly strong, the Carousel is moving - I wish I had brought my tripod.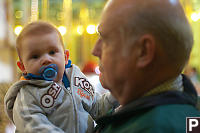 While a modern reproduction, the carousel is quite a beautiful piece of work. Combined with smiling faces, it's a nice place to take some photos.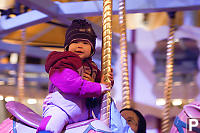 Bright Nights at Stanley Park
Every year the firefighters in the lower mainland put on a light show in Stanley Park. This is my first time going and I was impressed by the crowds. The classical Christmas scenes (Santa, snowmen, Nutcrackers, candy canes) were setup and lit with strings of lights. More modern Christmas scenes (Donald Duck, Mickey Mouse) were also well done, but I really wanted to use the lights as background for portraits rather than as the main image.

Christmas with the Williams
My sister and Brother in Law decided to stay home for Christmas. Before we headed to the island we came by to exchange gifts and let the kids see each other. It's funny to me how often the kids wind up playing with the other kid's toys.

Goldstream Park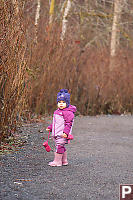 A weekend at Grandma's presents a lot of choices for entertainment. Shopping is always a strong attraction, but we decided to go see dead fish instead. Goldstream park is short drive from Vancouver and has a strong Salmon run around Christmas time. The trails are wide, the parking is free and there is even a nature house to warm up in if you get cold. What is not to like?


Having had a child, almost every photo I've taken in the last year a half has been of my kid or that of a relative. I finally have a picture of something else - an American Dipper! It's a local bird that lives close to streams but isn't a duck. It's long been on my list of "look out for" but this is the first time I have seen one (and recognized what it was) while out on a walk.


Christmas in Comox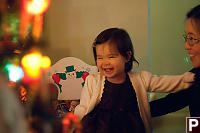 My aunt generously hosts a boxing day dinner. We drove up to see the family and enjoy another festival meal.
---
Tags: lights(5), Butchart Gardens(4), carousel(4), Bright Nights(4), bokeh(3), bird(1)
People: Nara(13), Marcus(5), James(3), Helen(3), Justin(2), Caitlin(1)
From: John Harvey Photo > Blogs for 2023 to 2005 > December 2011

Last Modified Sunday, January 29th, 2023 at 12:29:52 Edit
Copyright and Contact Information.