December 2014
Last month of the year.

---
Until today, I had never been to the Bloedel conservatory. The big dome at QE Park has been around for 45 years and they had an open house to celebrate. It was a rainy day so a day under the dome seemed like a great idea!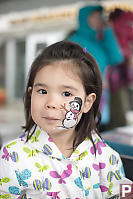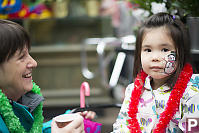 Burnaby Lake Nature House

This weekend also turned out to be an open house at the Burnaby Lake Nature House. The Nature house had decorate your own cookies and make your own bird masks. The kids had a good time making things, but they also enjoy feeding the animals.

Terra Nova Adventure Play Area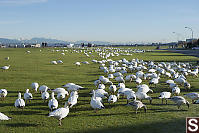 Helen was feeling a little under the weather so I took the kids out of the house for a few hours of fun at the Terra Nova Adventure Play Area. On the way there we found a large flock of Snow Geese feeding on the grass - I was surprised how tolerant they were to people walking by.


The playground is targeting older kids so while it's a stretch for Nara, it is often downright impossible for Claira. There is a nice infant swing that Claira does like, but she often watches her sister doing activities and just wants to do the same thing. I think she is pretty scared of the zip line, but she insists on doing it since her sister gets such a big laugh out of it.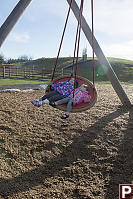 We usually end with the disk swing - fun for both kids at the same time. After the playground we usually go out to the parking lot and watch the planes at YVR while eating cheese sticks. Terra Nova really is a big hit.

Dr. Sun Yat Sen Gardens Winter Solstice
This time of the year is so dominated by Christmas, it's nice to see an event that isn't Christmas. We have been to this event before back in December 2007. This event has changed a lot - it now suggests admission and it's about 10 times more crowded. I often wondered how far we had exceeded fire code.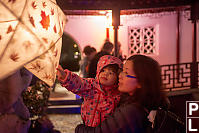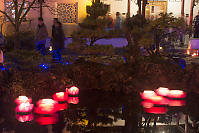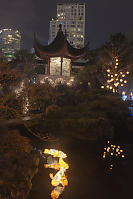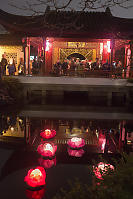 They do a nice job decorating the garden with lights. There are lanterns shaped like lotus flowers in on pond and lanterns shaped like koy in the other pond. The Ting has a backlit image filling the panels and there is a lantern making workshop where kids are making their own lanterns.


Finding a good spot to take a photo of kids was a bit of trick - the garden is mostly made of skinny walks and there just wasn't enough space to get far enough back.



---
Tags: Burnaby Lake(6), Dr. Sun Yat-Sen Classical Chinese Garden(5), night(5), Terra Nova Adventure Play Environment(5), lantern(4), crowd(2)
People: Nara(8), Claira(7), Janet(3), Helen(1), John(1)
From: John Harvey Photo > Blogs for 2020 to 2005 > December 2014

Last Modified Tuesday, January 20th, 2015 at 20:43:14 Edit
Copyright and Contact Information.