Manning Camping With A Family
Do I ever wish I brought a tripod.

---
Helen's work is quite constrained around summer holidays - they are booked months in advance and you are only guaranteed two weeks in the summer months. We got lucks and got the two weeks adjacent to the August Long Weekend. It's been a while since we went camping (we last went to
Cultus Lake
when Nara was 9 months old) so we decided to go local - Manning!
Othello Tunnels
If you are driving out to Manning, Othello tunnels makes a great lunch stop. Just a few minutes up the Coquihalla Highway is part of the remains of the Kettle Valley Railway - the most expensive section built. They cut a number of tunnels and bridges through a canyon that made an otherwise good route impossible for trains. It was made more than a hundred years ago, but it's still impressive today to walk through.

The tunnels and trellises really are the star of the show but there are little bits of wildlife to see too. I like Maidenhair fern - I was quite surprised to see it growing out of a tunnel wall. Last time I visited we found a toad at the side of the trail.
Welcome to Camping!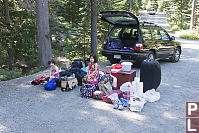 We told Claira we were going camping, and she was really excited but she really had no idea what camping was. When we got there and unloaded all the stuff from the car, she was just a little confused. We have a play tent at home so once I started setting up the big tent she got a better idea of what she was in for.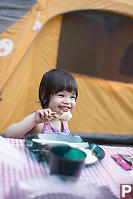 We don't do a lot of Al fresco dining at our house - we go out for the occasional picnic. The kids seemed to like eating outside and watching the never ending drama of the squirrels and dragonflies as they ate. Unlike me, they seemed to have no problem getting in and out of the picnic table and all the services they expect at home (glass of milk on demand) seemed to be present here too.


In the unlikely case of boredom, Mom brought two bags of entertainment. First we had outdoor play toys - bubbles, scoop ball, beach ball and so forth. Second we had a bag of coloring books and other treats like glowsticks - now known as "Candy". As the sun set, we gave the girls glowstick magic wands and we went to see the nature show at the amphitheater.



Well past their normal bedtime, the kids got settled in to sleep. We brought mini-tents and winter sleeping bags so the kids would have a warm and comfy place to sleep. Both Nara and Claira are know for loosing their blankets so I hoped their mini-tents would prevent them from getting too lost and cold. They mostly did okay.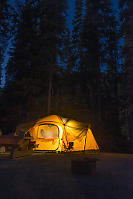 Canoe Ride
We arrived Wednesday afternoon. The first major activity I wanted to do was go for a canoe paddle. Thursday morning we made it to the day use area and rented a canoe - $20 for the first hour, $10 an hour after that, pretty much all inclusive. We brought kids life jackets but we didn't need to - the boat rental place had plenty.



Canoeing must be like riding a bike - you remember the basics very quickly. I never did get my J stroke back (I had to keep switching sides when I was paddling by myself), but a basic stroke was fine for the flat water and almost non-existent wind. The kids started the trip very interested - looking at everything. Then they wanted to play with the paddles. Then they got bored. Finally the just hung their fingers in the water watching the patterns the water made. An hour of canoing would have been enough - one and half hours was just a bit too much.



After we got the canoe back in we had a little swim at the beach and a picnic lunch - happy kids again!



We took Claira and Helen back to the camp site for a nap and Nara and I went out looking for adventure. I had heard of the beaver pond - a place just down the highway that is a hotspot for birds. It was two in the afternoon and it was just hot - almost no birds to be spotted. We stopped by the Park Info Center (not the store) and found a nice colony of ground squirrels on a very well kept lawn. I started to realize that if I wanted to get nice photos of birds, I would need to go when it wasn't the heat of the day and I didn't have kid or two close by.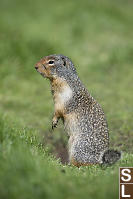 Sub-Alpine Meadows
The next morning I got up some time before 6am and started driving up to the Sub-Alpine meadows - a place I have been two a number of times to see flowers. I did see cars when I crossed the highway but there was no one else on the drive up to the meadow. I stopped at the pull out to watch the sunrise for a few minutes.


The sun low on the horizon gives a different kind of light compared to mid day overhead sun. As I was probably the first car driving up the wildlife near the road hadn't yet been scared away - I probably saw a dozen grouse and even saw juveniles - usually the first to fly away.


The last time I came up here, these birds were called "Blue" Grouse. Now they make a distinction between sooty and dusky grouse. I haven't figured out how to tell them apart.




When I got to the peak I decided to try my hand at the small birds that fly perch in the trees. I don't normally shoot the "little brown jobbies", but with a longer lens I'm starting to get opportunities to see and identified species - It's surprising how many different kinds of birds are actually out there.


I walked after looking for birds, I brought out my macro lens and went looking for flowers. The unusually hot summer mean the peak flowers were now weeks behind us - only a few flowers were left in shadow areas.


The rock pile at the end of the parking lot is a particular favorite for me because of the family of Hoary Marmot that usually call that pile home. I was quite surprised to see a Yellow Bellied Marmot there instead. I spoke with a ranger later in the day - turns out the colony of Hoary Marmots died out in a poor summer/long winter year. There are Hoary marmots in other parts of the park but this particular colony was gone and the Yellow Bellied Marmot's seem to be taking over. I was little saddened.
I got back to the camp site by 9am and the kids had just finished breakfast.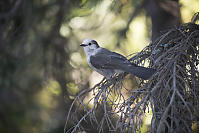 Beaver Pond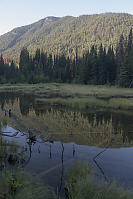 I decided to revisit the beaver pond to see if there were birds there that I hadn't seen in my mid day visit. Even pulling into the parking lot (which was empty) I could tell things were different.

There were four Stellars Jay's playing the parking lot and a cedar waxwing eating blueberries at the trail head. A raven came in to see if there was anything he could steal from jays, who promptly scattered. It's always nice to see real behavior, not handout seeking.



As I walked down to the pond, I could see a great blue heron flying away. I found found the great blue herons (I think I've seen three of them) really easily frightened. The birds in Vancouver let you get quite close without much care - at Manning they seemed to fly as soon as the saw you, not matter how far away you were.


Again, there were little brown birds that before getting a big lens I would just keep walking past.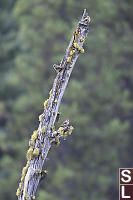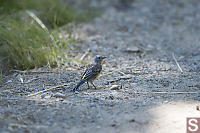 On the way back to the camp site I stopped by the day use area. There were three great blue herons on the docks near the boat rentals but I didn't see much else for birds. The ground squirrel colony was very active in the morning - I was hoping a hawk or other raptor would come by to thin out the flock but no such luck.

Last Swim
I got back to the campsite before anyone was awake. By 8:30am the kids were starting to get up and wanted breakfast. The high altitude makes for cold nights (hence the winter jackets for breakfast) but it quickly warms up and by 11am you really want to take a swim to cool down.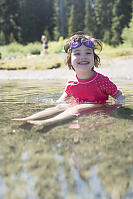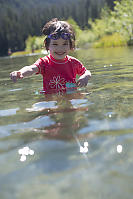 Nara really liked swimming in the lake - with the life jacket on she went for longer swims in deeper water. Claira didn't like the life jacket so much and didn't mind playing in the shallow, warmer water.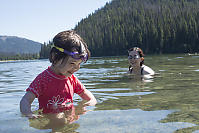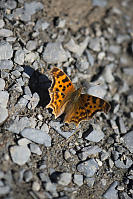 There were quite a few insects around the lake. We were almost constantly being checked out by dragonflies and a butterfly fluttered by to sample something in the beach sand.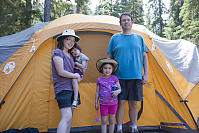 And then it was time to go! We had some errands left to do in the city and after three nights and four days the kids needed a bath. We made it back to Vancouver in time to see the fireworks!
---
Tags: canoeing(5), insect(3), long exposure(2), night(2), tunnel(2), camping(2)
People: Claira(11), Nara(10), Helen(4), John(2)
From: John Harvey Photo > John Harvey Photo - Camping > Manning Camping 2

Last Modified Saturday, August 15th, 2015 at 09:12:09 Edit
Copyright and Contact Information.