Meager Creek
Another great BC Hot Spring

---
Meager Creek Hot Spring has had a rough history. It's is a great hot spring - lots of hot water, and beautiful view from the pools. There has been some sad history when the springs were overrun by rowdy people, but that not uncommon at local hot springs. About five years the bridge to the hot springs washed out and access was effectively cut off. We happened to be in town, and found out from the locals that the bridge had been rebuilt. The tourism info desk provided us a map and we were off.

There are now managers of the hot springs and they charged a very reasonable $5 a person to enter the springs. When we arrived, the pools were almost empty and there were rarely more people than pools. It had been raining for the last 24 hours Meager Creek was raging next to us. The sound of the boulders crashing in the river bed was a frightening contrast to the bliss of the warm water.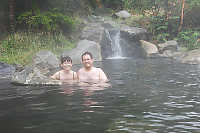 This hot spring is a good distance from Vancouver (3+ hours) so you need to plan to get this far away. That said, it's well worth the trip.

---
Tags: river(2), hot spring(2), gyser(1), sign(1)
From: John Harvey Photo > Blogs for 2020 to 2005 > Meager Creek

Last Modified Tuesday, June 9th, 2009 at 01:35:04 Edit
Copyright and Contact Information.