Mt Seymour

Second attempt and still no peak

---
So it's June, you want to get up a hill and there has been a fair amount of late season snow. Where are you going to go? Mt Seymour is a pretty good choice if you don't mind a little snow and remember to bring bug spray.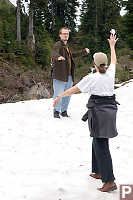 Eric had this idea that I really latched on to - Gabi, being from he warm beach part of Australia, hasn't often seen snow. Vancouver is the warm beach part of Canada, but we still have access to snow pretty much year round.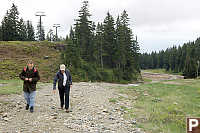 The hike to Mount Seymour is actually quite easy - hike up the ski runs half an hour or so, and then follow a trail that winds around the mountain to the top - actually three tops - Mount Seymour has three peaks. On a previous trip I made it to the first peak, but we ran out of energy to go any further.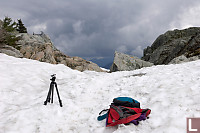 So here is the problem. You get to the first peak - beautiful view - you sit for a while to take it in. Maybe have some lunch. Then you realize you are cold. Snow? Oh yeah - because the second and third peak are less visited, the snow is looser and deeper. Turn around? Probably a good idea.


But while you are at the top it's fun. You don't get a terribly sharp image of the city (so much atmosphere between you and it) but you certainly get a sense of the lay of the land.



Getting cold and worried about the weather, we headed down. David and Eric found a fun game to play with snowballs.


After a while you get somewhat used to the domestic flora (other than a raven, there was no fauna to be seen). Then you turn a corner and all sorts of stuff pops out at you. Something about learning to see.


David has always had special skills when it comes to find places to sleep. For some reason, this trip stressed his skills to the limit. Mount Seymour is a good if short hike for a lazy Sunday afternoon.


&nbsp
---
Tags: snow(4), summit(3), hiking(3), vista(2), snowball(2), alpine(2)
People: David(5), Eric(2), Gabi(2)
From: John Harvey Photo > John Harvey Photo - Hiking > Mt Seymour

Last Modified Saturday, January 21st, 2023 at 23:42:28 Edit
Copyright and Contact Information.