In Camp



---
Setting up Camp:



We cycled our butts to our reserved camp site and met up with Eric and Mike who had been there since about 11 am. (They caught the 8:30 am ferry in case the noon was overflowing with traffic.) Jer was supposed to be on the 4:25 sailing from Vancouver - if he wasn't on that sailing he wasn't coming and neither would be our tents, food, sleeping bags...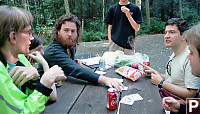 Not content to just wait around, we cycled down to the little store by the camp site and picked up lunch fixings. Someone (Mike?) had cards so we started what would be a long weekend of card playing.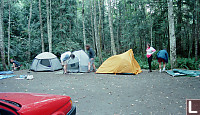 Jer! Once the car arrived we fell into deploy mode and started setting up camp. Start with the tents - don't want to be too close to the fire or too far from dinner table, want to be facing the right direction.
The camp site is just like every other government camp site - thick pad of gravel - too firm to drive tent pegs, too loose to hold them. The pup tents set up quickly and we went on to the tarps.
For some reason every year it rains. We're now prepared for it at least one tarp to cover the dinner area, and tents that are half decently rain proof.
This year's tarp design was a little different that others - we used a guy line strung at 20 feet between two trees and then pulled the other two corners out. It was just luck that the tarp covered the table but had air space for the stove, covered the area close to the fire but didn't collect smoke.
Around Camp
We all shared cooking duties (pretty much evenly)
The firewood supply was free but not particularly plentiful. We got three pieces of wood a night, but they were green and each had a knot in them. Thankfully Jesse brought his axe and we could (with lots of work) break the wood up into burnable chunks.
Eric had the forethought to bring two badminton rackets and with a little work we had a court set up. Jer's chairs were used to form the cheerleading section and it was game on.
Besides badminton, we also played some wacky games of beach ball volleyball, but the camp site is elevated above the surrounding area so the ball would often roll out of play.
Besides all the fun and games, we got lots of time in for old fashioned sitting around and doing nothing. Jer demonstrates. (I think he was actually carving.)
Camping isn't camping without tents full of stuff. Four days seemed a little long because we didn't have showers (save a dip in the lake), so we should look into showers on the next trip (if only to keep Jeremy from whining).
Playing with the fire. Because of the limited wood supply we didn't do much burning during the day, but a few fires started before sunset. Of course most fires with started with the aid of a little (or a lot) or fire water (white gas), but everything worked out. (Sorry Eric!)

Mike and his code. Besides all the hours of card games we also talked tech, and caught up with what's happened in the last year.
And then it rained. We only had one real night of rain, but a few things went wrong. In Sean and my tent, Sean placed all his clothes along the wall and they were wet the next morning. In Jer's tent the tarp funneled water under the tent and soaked their piece of foam. Similarly, in David and Karen's tent the ground sheet helped water get under the tent.
Once the tents were wet, the slugs moved in. At one point Mark's tent had four slugs on it, including this 6 inch beauty.
All good things - Monday comes around we have to disassemble the camp site and get ready for the cycle ride home. It took us a day or two to figure out we could move the other picnic table, but it was more convenient to have them both together.
---
Tags: camping(9), tent(5), cooking(3), game(2), gulf island(1), motion blur(1)
People: Michael(5), Eric(3), Mark(3), Karen(3), Jeremy(3), David(2)
From: John Harvey Photo > John Harvey Photo - Camping > Bike Camping on Pender Island > Setting up Camp on Pender Island

Last Modified Tuesday, June 9th, 2009 at 00:26:48 Edit
Copyright and Contact Information.