Thursday morning, Mark and I set out on our killer road trip. I met him at his house at 9 am, and we swung by Radical to find out if his employer had yet been bought out by my company. He wasn't yet an EA employee so we hit the road the Grand Canyon.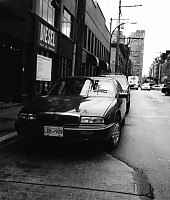 We left downtown around 9:30, met the boarder at 10:30, waited half an hour to come to the American check station. Mark presented his American passport (he's a dual citizen), I my Canadian passport and the customs agent started to confuse us. The customs agent believed Mark lived in the states and had come up to drive me down (ignoring the fact that I was driving) and after diligently trying to explain that Mark was a dual citizen, Canadian resident, and we were coming from Canada, we finally resigned ourselves to agreeing with the agents incorrect interpretation of reality. Seeing we had given up explaining, he then asked for the real story and we reiterated our story. Believing he had reached the truth as to why two young men were driving across the boarder at 11am on a Thursday, he let us go.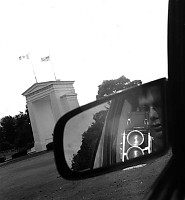 It started to rain. I drove for about an hour until we got to Bellisfair and stopped for lunch and gas. After a few driving surprises - don't forget to shoulder check! We got gas at Texaco, the trips gas station of choice, and hit the open rode. American speed limits are 110 to 120 Km an hour, much faster than my usual mode of transport - mountain bike, so I was quite surprised to find how long it took to brake when the highway suddenly seems to not be moving. Lesson learned.
We stopped at Tillicum (the other side of Tacoma) for slurpies and an hour later we crossed into Oregon and stopped at Rainier for "gas". (Mark's bladder also happened to need draining). Driving past Deer Island, I spotted a retired nuclear reactor so we stopped for pictures. A few minuets after pictures we pulled into St. Helens and met Mark's grandparents.