VanDusen Botanical Garden
One of the Top Rated Destinations in Vancouver

---

VanDusen is a multiple-city block garden in the heart of Vancouver. Because it's so close to were I live, it's always been a go to place for a short walk on a nice day. This page is a collection of images from many different nice days.

Flowers at VanDusen

The garden is broken into areas representing different parts of the world - a Japanese garden, a Himalaya's area, South American section and so on. Areas not representing other parts of the world still have dramatic features like ponds and large grassy lawns.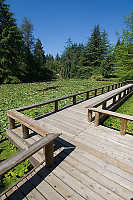 The garden has a wide variety of structures - bridges, shelters, pools - to keep you interested in walking around. My favorite features are actually quite close to the entrance - the bridges over shallow ponds where you can see all sorts of aquatic life.

The garden tries to have attractions for all seasons. Spring and summer are easy (flowers) but the fall can be very dramatic as well. Most of the west coast is quite boring in fall - evergreen trees staying green and leafy trees that just go brown.

The garden has a corner with a number of mature Japanese Maples. We had a line up of photographers wanting to take advantage of this particular tree.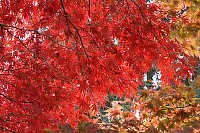 Animals in VanDusen
One of the things that impressed my was the wildlife in the garden. There is a large colony of Great Blue Heron's in Stanley Park and they fan out over the city every day looking for something to ear. When Heron's fish - they stand very still may not seem care as we approached fairly close.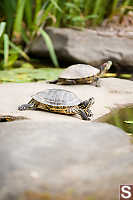 The turtles in VanDusen are aquarium escapees - invasive species. I've always wondered why VanDusen doesn't try to include native Turtles, but if Native turtles were present in the pond they would probably limit what the garden can do for gardening.


Bird life at VanDusen is reasonably rich. It is an urban garden so you often run into the expected urban birds. Sometimes you get lucky and stumbled into an owl. We almost missed it - a woman said there was an owl ahead but wasn't very specific about where. We actually walked past it before giving up and checking our tracks. Glad we found it.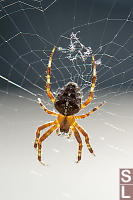 The insect life at VanDusen is pretty rich as well. In the summer there are lots of opportunities to see dragonflies and in the fall orb weavers are very common.

Festival of Lights
Probably the biggest crowds at VanDusen are for the Christmas themed Festival of Lights in December and early January. They decorate a limited section of garden with a dense mat of lights and then sprinkle in vendors selling traditional food.

Snow in Vancouver is rare and when it does come, it is often in January or February - a white Christmas is very rare.


It was the last day of the light show (a few days after New Years) so the crowds were pretty thin.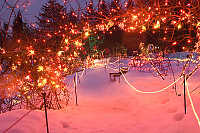 I wasn't alone - there was actually quite a queue at 4:30 when doors opened - but there was lots of space to take photos and enjoy scenes.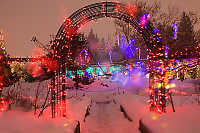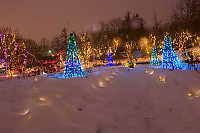 The only downside was that lots of lights weren't on. I suspect that with the connections buried in snow for so long, there were electrical issues and they couldn't find the connections to fix it.

Pond Dipping

Last year Nara and I stumbled into a class of kids doing pond dipping on the zigzag bridge at VanDusen. The class was full and most of the kids were well past five - the minimum age. I asked if Nara could participate but there just wasn't enough equipment. We signed up Nara this year for the afternoon session during Claira's nap. Turns out they had attendance issues this year - the afternoon class was canceled and the morning class was only half full. The teachers were quite accommodating and it turns out the average age was about 4 years of age.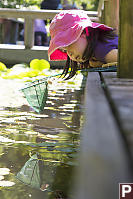 The kids did dig small animals out of the pond. Nara got a small fish and other kids got damselfly and dragonfly nymphs. They got a few backswimmers. The kids did enjoy looking at the animals swim in their tubs.


Claira didn't last the whole hour and a half - we needed to go for a walk to see the turtles and just generally jump around. One of the two naturalists managed to grab a turtle that was sunning itself on the rocks (not a very bright escaped pet) so the kids got a "not to close!" look at a turtle. A duck and it's babies swam by - the kids had a good time.

---
Tags: VanDusen(32), lights(12), snow(9), garden(4), insect(3), fall colour(3)
People: Nara(2), Claira(2)
From: John Harvey Photo > VanDusen Botanical Garden
From: John Harvey Photo > Photos of Vancouver > VanDusen Botanical Garden

Last Modified Thursday, September 3rd, 2015 at 22:22:26 Edit
Copyright and Contact Information.