Ho Chi Minh City

Used to be Saigon, now it's shopping!

---

We were twice in Ho Chi Minh City - once when we flew in from the north and again just before we flew in. With a week between our two visits, we could have items tailored and allow a week before returning to have another fitting. We would have liked to have done the same in Hoi An but the weather this time of year is generally bad (and was when we were there.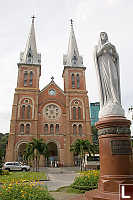 Binh Tay Market


Binh Tay was our first city market. Unlike most other markets I've been to, this market is dominated by non food items like cloth, hats, shoes and kitchen stuff. The food was found in the back and spilling out the sides. While we did see the odd tourist there, this markets is by the locals for the locals.

One of the sales modes I really like is bike or mobile carts. In India,
mobile stands were common
, but not so common here - perhaps a different area or market would have them.




I found the indoor part of the goods market quite difficult to move in - the aisles are just so thin. Outside I could get enough space to take photos.



Ben Thanh Market


Ben Thanh is much more tourist oriented. Just on the edge of the tourist center of town, you will see tourists all over this market. There is more space in much of the market, and more goods sold are tourist oriented.

One find for us was a vendor selling Durian. Durian in Canada is almost always sold frozen or previously frozen which doesn't help the flavor or texture. Durian isn't really in season right now, but somehow this vendor had it. Helen purchased a good sized piece and we tried it! It wasn't nearly as bad as I thought it would be and Helen was obviously enjoying herself. My favorite part was the vendors around who came by trying to sell us drinks - I guess they were "concerned" how we would take the taste.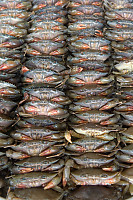 In the back was quite a nice wet market with lots of seafood. I was quite impressed with the soft shelled crabs and the way some food is presented.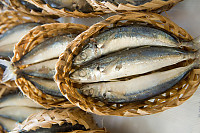 ---
Tags: Vietnam(11), market(6), street food(3), durian(2), seafood(2), alley(1)
People: Helen(1)
From: John Harvey Photo > Trips out of the Country > Vietnam > Ho Chi Minh City

Last Modified Saturday, January 21st, 2023 at 23:45:55 Edit
Copyright and Contact Information.